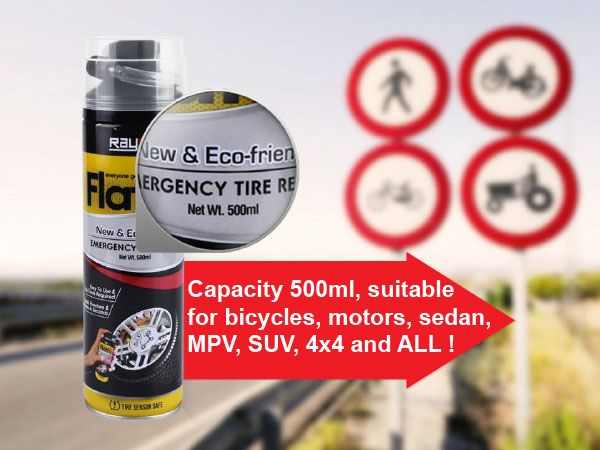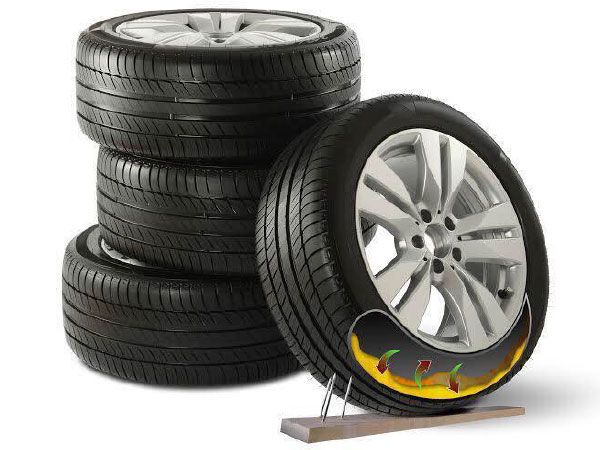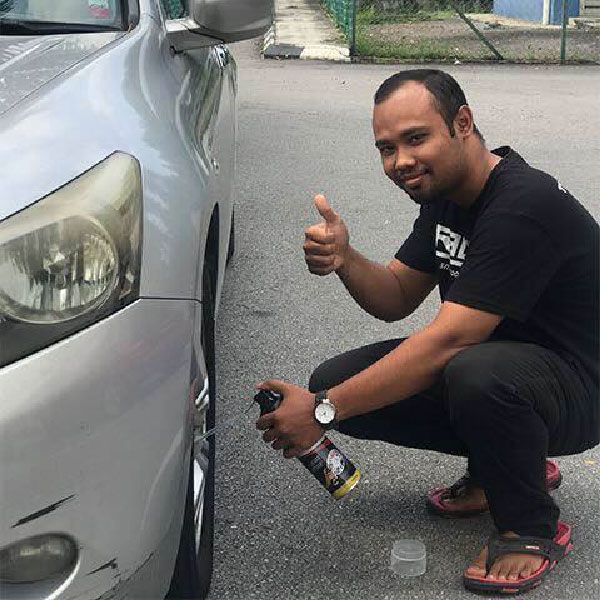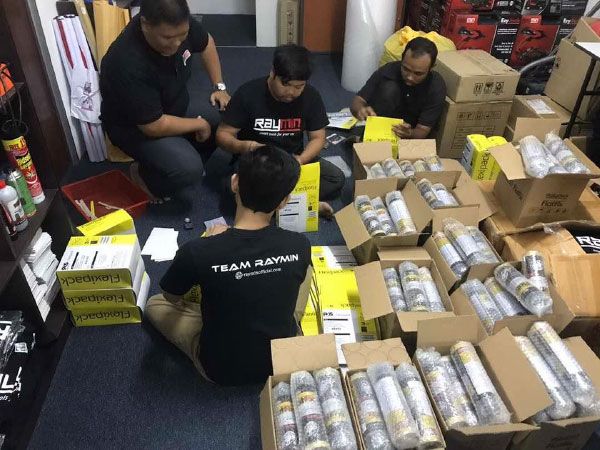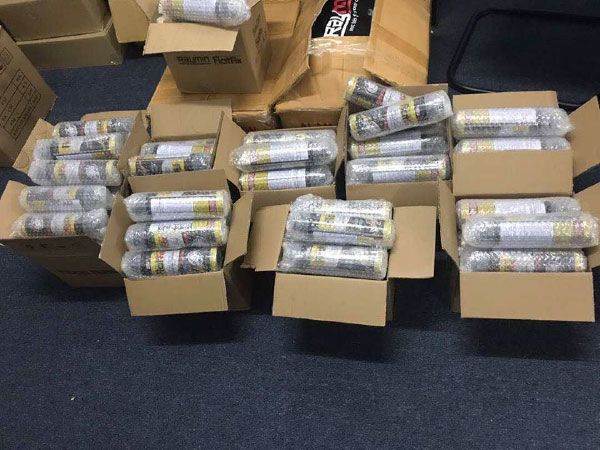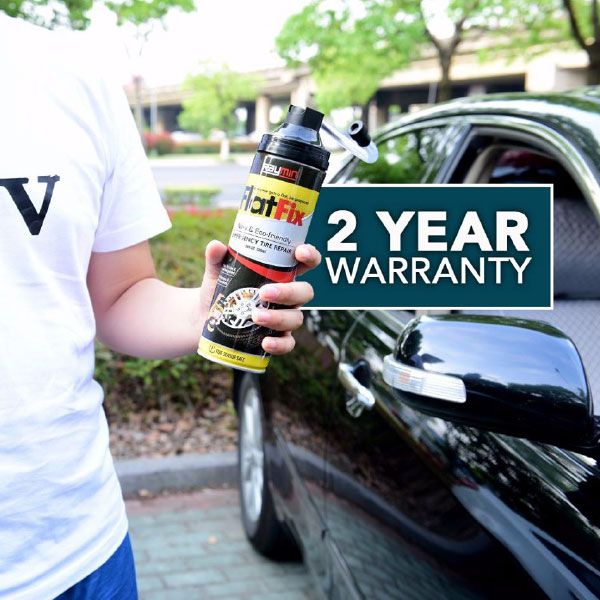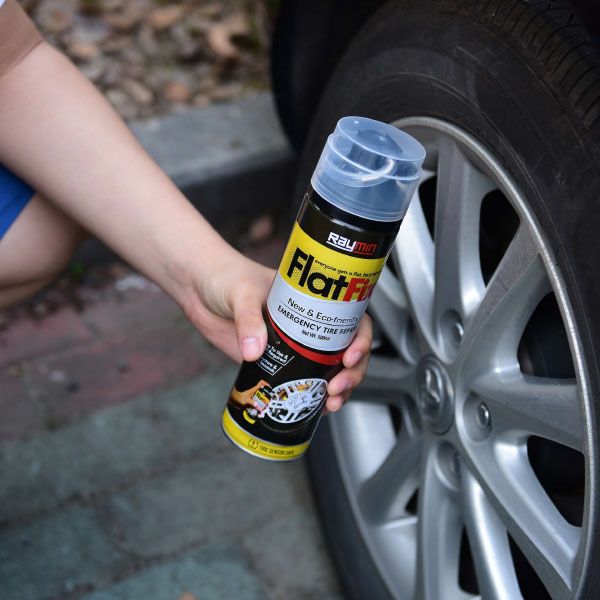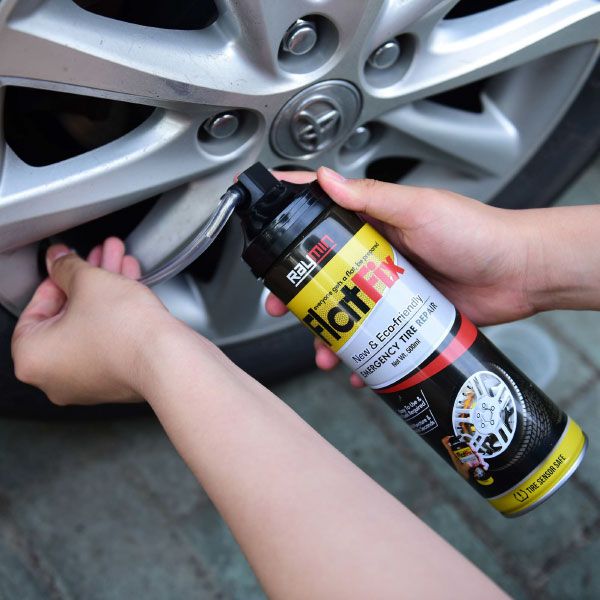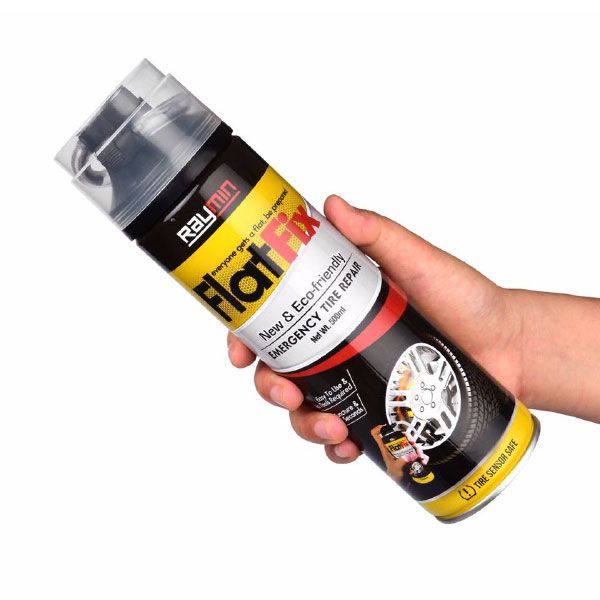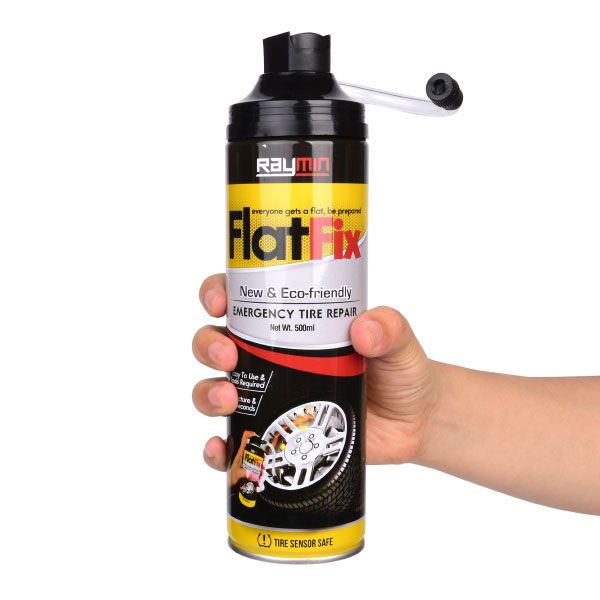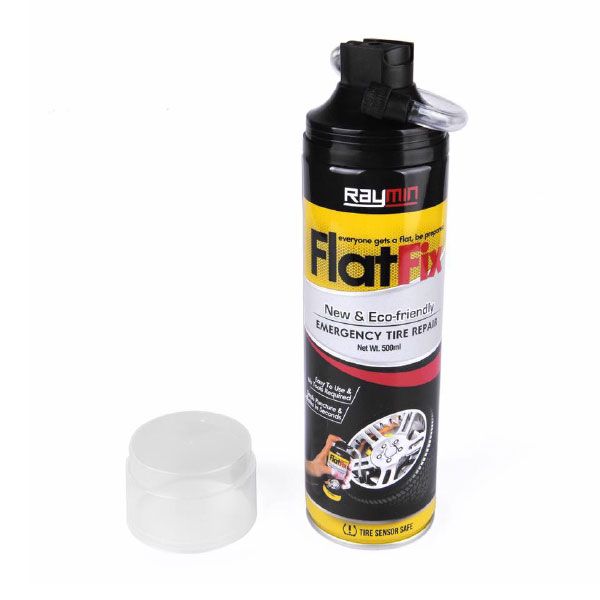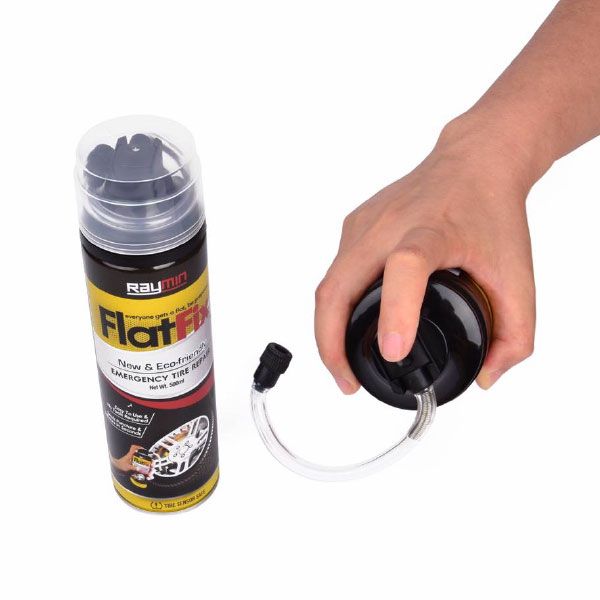 RAYMIN FLAT FIX Emergency Tire Repair - Solution to fix your flat tires in 90 seconds (500ml)
A one step solution to fix your flat tires instantly - Guaranteed Result!
FlatFix is a proven, bleeding-edge sealant that can fix flat tires instantly. It is so efficient that you can drive 100 miles after inflating your tire with it.
A one-step solution that seals up to ¼ inch of puncture in diameter. All you have to do is attach the nozzle of FlatFix with your tire valve, press the button and let it inflate your tire while sealing the punctured area in mere seconds.
Nothing gets better than having such an emergency tire-repair solution with you.
What is RAYMIN FlatFix?
What benefis with this FlatFix?
No need to change tire - Flatfix will automatically patch and expand the tire. It's great for everyone especially for women, because changing tire are very tough for them.
Complete within 90 seconds - You only need 90 seconds by using Flatfix. Travel can cantinue with out any delay.
Easy and simple to used - Simply connect the Flatfix hose to the tire valcve and press the button on the bottle.
Safety ensured - Crime risks on the roads can be reduced especially during the night and while in a quiet place. Flatfix repairs tire leak easily and fast.
Who need this?
Driver who care there family - If you care your family and love one. Mandatory Buy!
Driver who care times - If you don't want waste time on changing tire at the edge of the road while go to work or back home. Mandatory Buy!
Driver who care their car - If you don't want the rim & tire get damaged when fixing tire. Mandatory Buy!
Driver who have wife and children - If you don't want your wife and children involved in this situation, especially under hot weather or dangerous highway. Mandatory Buy!
The old one always say "Prevention is better then cure"
Don't just buy for your self, buy for your love one also! Stand by for any moment, every car must have at least one bottle!
FQA
(Q) If the tire are bald and flat, still can use this?
(A) Its suitable for all kinds of tires. Doesn't matter blad/ expired/ new. Condition tire must not be torn apart or not more then +-6mm.
(Q) One bottle can use for 1 tire or 4 tire?
(A) Its depends. Recommended when used wear up/ tire pressure is sufficient. If you are close to the tire shop, use a few taps to get to the store.
(Q) If tire using gas nitrogen also can use?
(A) Yes, can be use. Doesn't matter normal air pressure or nitrogen, can be used.
Features:
Suitable for bicyscles, motors, sedan, MPV, SUV, 4x4, and ALL!

Inflates and Seals puncture Immediately

No Tools Require

Easy and Safe to use

Eco Friendly and Non-flammable Formula

Capacity 500ml

2 Year Warranty
How do i use it?
Using it is super easy. Even a teenager can fix a flat tire with FlatFix.

All you have to do is connect the FlatFix's nozzle with the flat tire's valve. Make sure it's connected right and press the button to inflate your tire with its contents. The contents can fill up the punctured area (up to ¼ inch in diameter). It will take mere seconds for the tire to come back to its normal condition so you can get back on the road quickly.

You can now get back on road and drive your car up to 100 miles. Just make sure to get your tire permanently fixed within 3 days or 100 miles otherwise you might be in trouble.

FlatFix is tire sensor safe, and requires no jacks or tools to fix your flat tire.