More info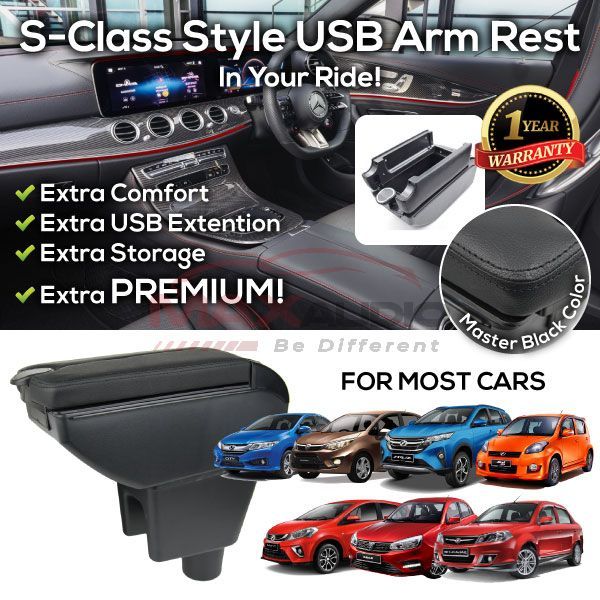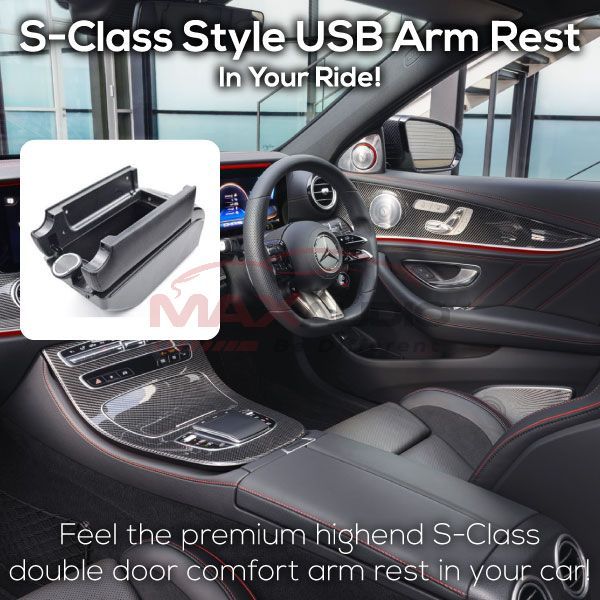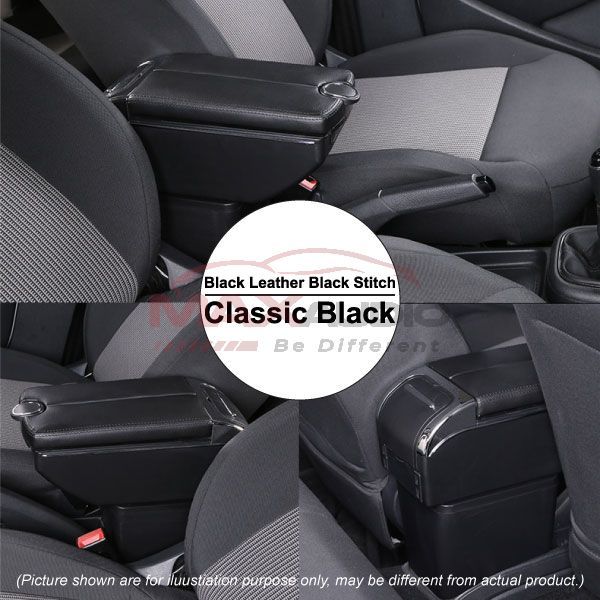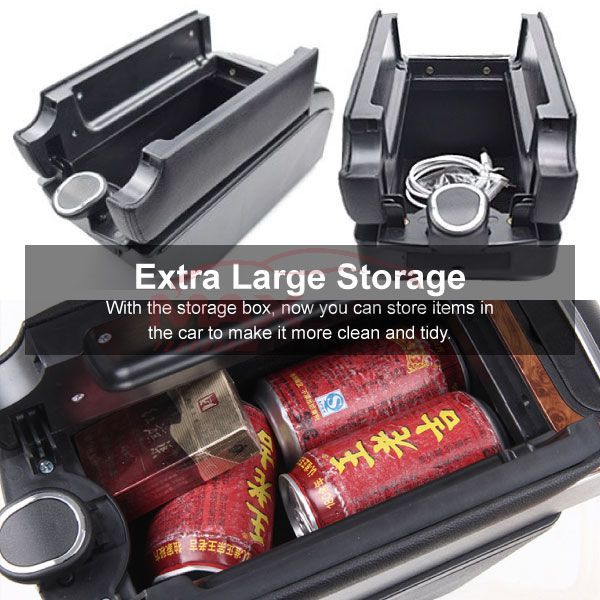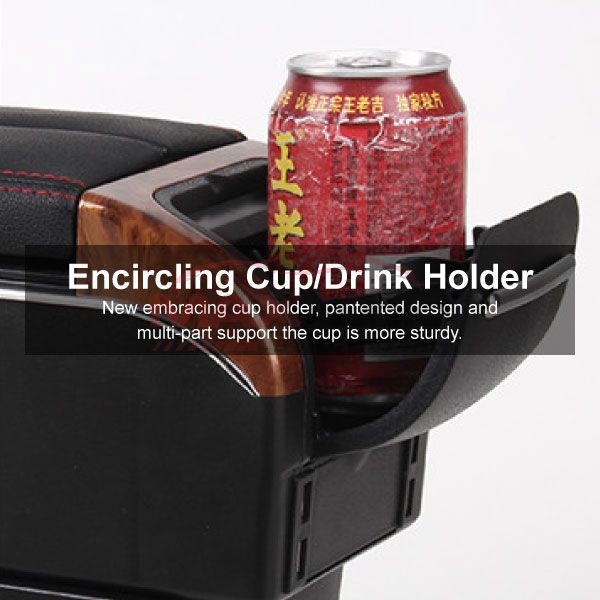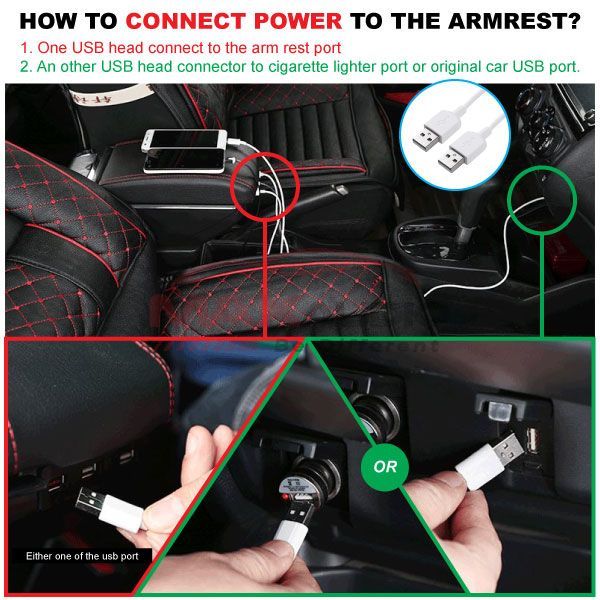 MOST CARS Premium Quality S-Class Style Black Leather Arm Rest Armrest with USB Charger Extension & Cup Holder
Raise your car comfort level with this S-Class Style USB Multifunction armrest, uniquely designed in leather with ABS body. The Installation is extremely easy and fast directly on your central console/cup holder.
You not only get the chance to rest your arm on it, but to store whatever you need in arm reach. And before you know it, your long and casual trip would turn into a comfortable experience.
HIGHLIGHT FEATURES
S-Class Design: Feel the premium highend S-Class double door arm rest in your car!

Extra Large Storage: With the storage box, now you can store items in the car to make it more clean and tidy.

Extra USB Charging Slot: 3 slot at the front and 4 slot at the back, total of 7 USB slot, you can charge up your device with no worry space!

Hand Brake Friendly: The panel can be slide forward backward to make your arm more confirtable and it is safe without hindering the handbrake.

Encircling Cup/Drink Holder: New embracing cup holder, pantented design and multi-part support the cup is more sturdy.

Washable Ashtray/ Coin Holder: Rear part arm rest come with removable and washable tray, which can facilitate the smoke of the rear passengers or store some coin.

Easy Installation: Custom fit for your car cup holder shape, requires no special skill, simple and easy to install.
OTHER FEATURES
Comfortable arm rest to rest your hand while driving

Reduces muscle discomfort and fatigue

Arm rest that can store your wallet, tissue, keys, pen and etc

Comes with 7 usb extension port for device charging

Custom made for your original center console cup holder

High quality finishing

Come with cup drink holder

Sporty Look

Easy installation, requires no specialis, a DIY product

Quality leather top arm rest

Fit car which have not arm rest

An upgrade accessories

Installation screw are included

FREE USB to USB cable for arm rest usb extension
SPECIFICATION
Color: Black Leather with Black Stitch

Body Metrial: ABS

Usb Slot: 7 (3 at the front, 4 at the back)

Weight: 3Kg

Warranty 1 Year
HOW TO CONNECT POER TO THE ARM REST?
*Note: To complate this action, need to have USB to USB head cable (about 0.5m)
1. One USB head connect to the arm rest port.

2. An other USB head connect to the cigarette lighter port or original car USB post on dashboard.
INSTALLATION GUIDE
1. Clean up installation area

2. Place the arm rest base on the center cup holder

3. Place the arm rest slider rail on top

4. Slide in arm rest console box to the slider rail

5. Installation complate!
(Picture shown are for iluustiation purpose only, may be different from actual product.)
MODEL AVAILABLE
HONDA BRV

HONDA CITY GM6 2014 - 2019

HONDA JAZZ GK 2014 - 2021

PERODUA ARUZ

PERODUA AXIA 2014 - 2021

PERODUA MYVI SE1 SE2 LE 2005 - 2010

PERODUA MYVI LAGI BEST/ ICON 2011 - 2017

PERODUA MYVI 2018 - 2021

PROTON EXORA

PROTON PERSONA 2016 - 2021

PROTON SAGA BLM SE FL FLX SV

PROTON SAGA VVT 2016 - 2021