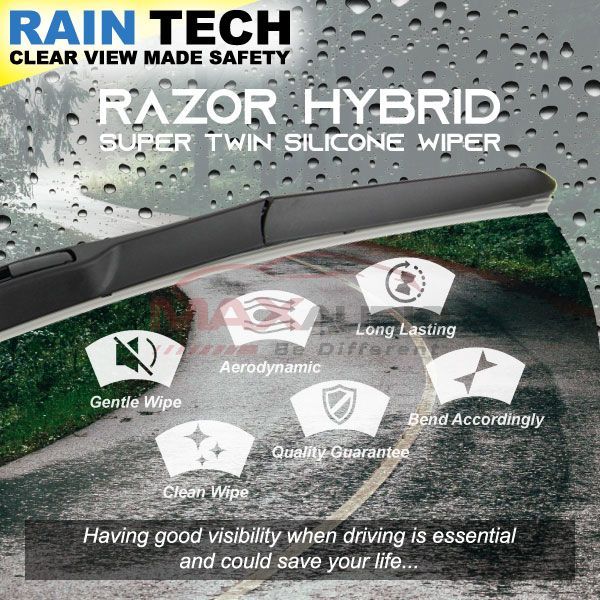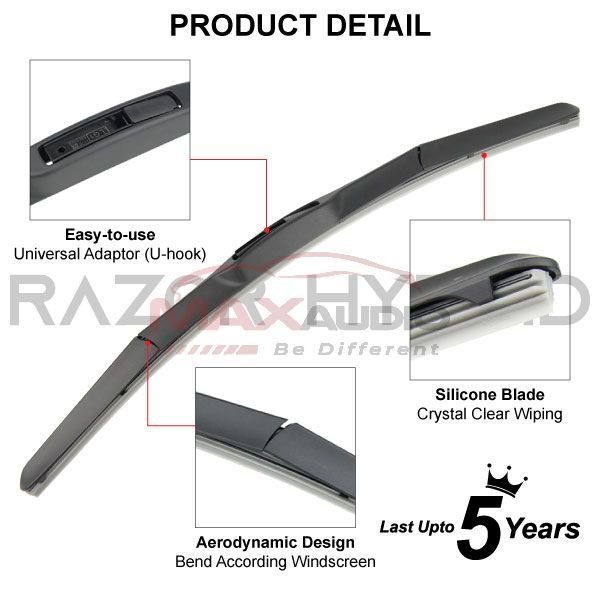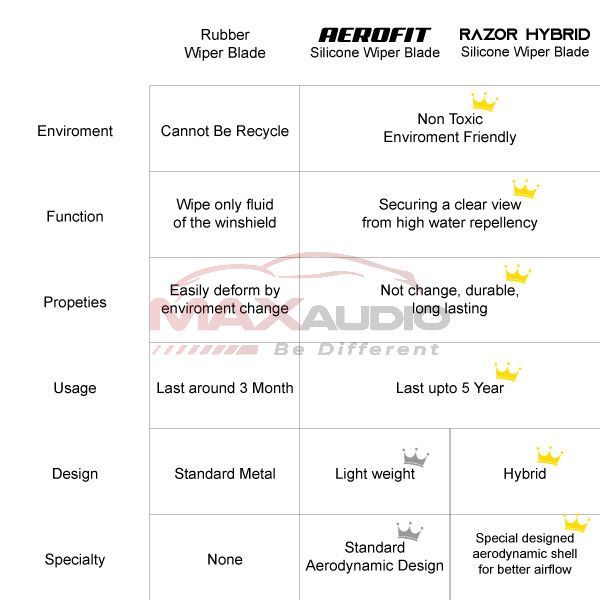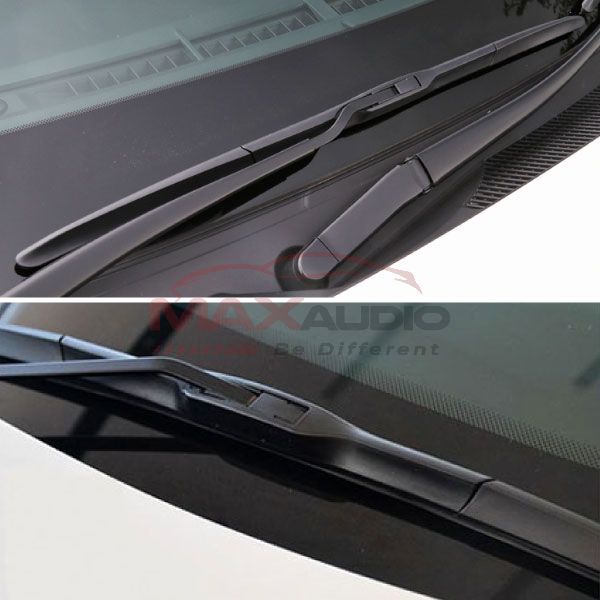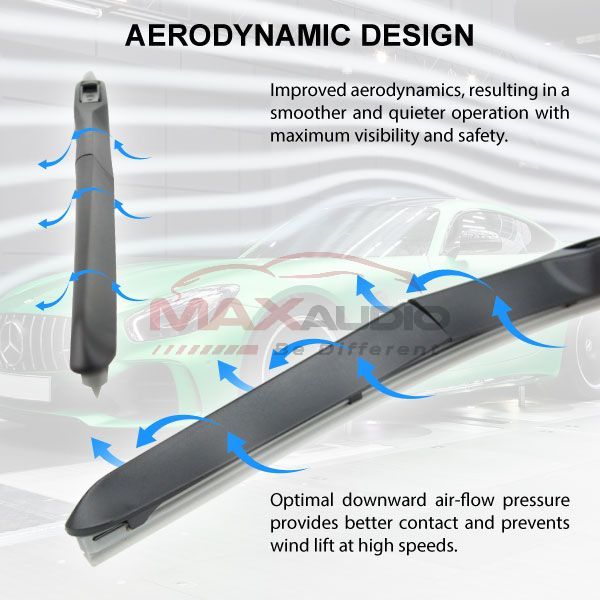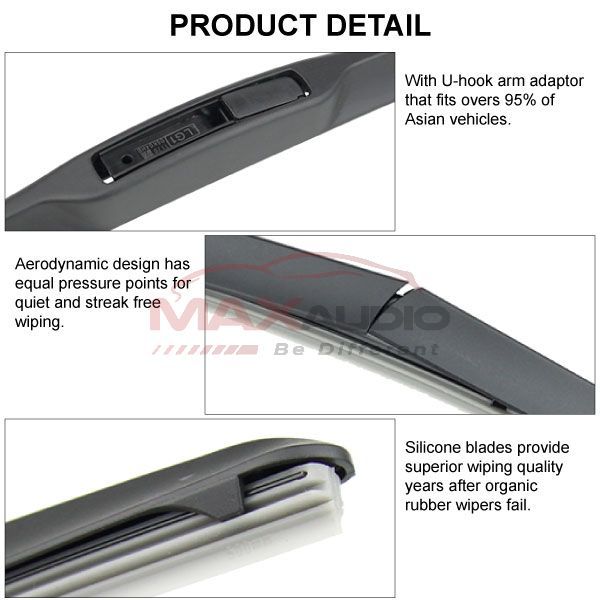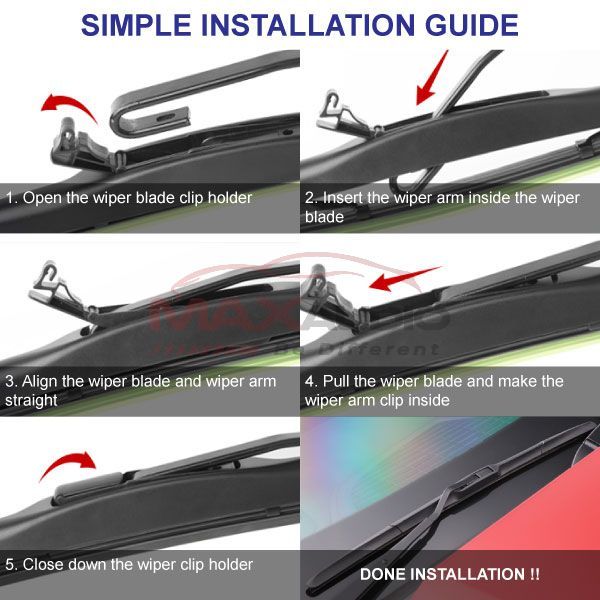 Original RAIN-TECH RAZOR HYBRID TAIWAN Silicone Aerodynamic Clean Wipe Safety Wiper Blade (Pair)
BEST WIPING PERFORMANCE FOR OPTIMUM SAFETY AND STYLE.
RAIN-TECH RAZOR wiper blades are technical masterpieces. In the course of their service life, they wipe thousands of liters of water from the windscreen.
This premium product offers a special silicone wiper blade to ensure you experience have a difference when driving. RAIN Tech wipers clean up to 10 times better than regular rubber wipers.
RAIN-TECH RAZOR wiper blade offers car drivers an upgrade to better wiping performance. Designed with advanced hybrid technology, RAIN-TECH RAZOR Wiper blades are innovative aerodynamic and will bend according to the curvature of your car windscreen and optimal pressure distribution across the blade to deliver a cleaner wipe. Integrates the best features of an ideal combination of style, performance, and protection.
RAIN-TECH RAZOR wiper blade are made with special silicone blade, which ensures greater visibility by coating the windshield with silicone to promote continuous water beading in inclement weather. These effect is similar to popular windshield coatings but without the hazy side effects. Water beads up into droplets at low speeds that are easily removed by ordinary wiping. At higher speeds, wind pressure pushes the water off the windshield, often without even requiring wiper use. The silicone blades is also twice durable as traditional rubber, allowing them to perform better over a longer period of time.
RAIN-TECH uses a unique of silicone blades (for durability) and graphite (for superior surface wipe) resulting in the BEST silicone wiper on the market. Silicone blades are extremely durable and do not stick to hot windscreens. Unlike organic rubber wiper blade, silicone will not absorb moisture over time causing heat build up in hot conditions, also do not dry out, or "set" after long exposure to ozone, UV Rays, ice, snow, heat or cold. Standard rubber wipers supplied by car manufacturers are inefficient and are unable to clear oil and grime cause by regular city driving.
Having good visibility when driving is essential and could save your life...
HIGHLIGHT FEATURES
Advanced Hybrid Technology - A crossover in wiper blade technology design that combines structural features of the conventional frame and the flat blade low profile design.

Easy-to-use, Universally Compatible Pre-attached Adaptor - The pre-attached adaptor offers hassle-free and easy installation. Fits more than 95% of vehicles in Asia.

Aerodynamic Design - Improved aerodynamics, resulting in a smoother and quieter operation with maximum visibility and safety. Optimal downward air-flow pressure provides better contact and prevents wind lift at high speeds.

Maximum Durability and Reliability - Special silicone to withstand grater operation stress. All-weather protective shell gives added protection for longer life.

Crystal Clear Wiping Performance - Silicone is natural hydrophobic properties repel water for a crystal clear view. All-weather silicone keeps your windshield clearer.

Withstands Extreme Weathers - Will not crack, tear or dry out from sun or UV exposure. Remains flexible and will not lose shape or take a compression set in extreme heat.
NOTE: The RAIN-TECH RAZOR wiper blade fits 95% of Asian vehicle brands and any vehicle that has the U-Hook Wiper Arm.
FEATURES
Premium quality wiper blade in the market

Suitable for all weather conditions

Silicone Blades perform compound promotes water beading and quiet operation

Innovative hybrid design for style, performance, and protection

Enhanced aerodynamics to deliver a clearer view and a cleaner wipe

Clearer Visibility

High quality silicone wiper

Longer-lasting performance

Improved aerodynamic design

Reinforced with internal steel frame

10 times cleaner then normal rubber wiper blade

Bend according to your wind screen curveness

Silicone blades last up to 2x longer than traditional rubber blades

Aerodynamic design has equal pressure points for quiet and streak free wiping

Patented silicone blade resists wear and damage from UV and sunlight exposure

Easy Installation

With U-hook arm adaptor that fits overs 95% of Asian vehicles

Silicone blades provide superior wiping quality years after organic rubber wipers fail

Price comes in 1 pair

Same design with PIAA, BMW, MERCEDES BENZ, TOYOTA CAMRY, KIA K5, HONDA ACCORD, HONDA CIVIC FD FB original wiper

Maximum Durability & Reliability up to 5 Years

Better quality compare to PIAA and BOSCH

Test proven performance

Fits 95% of Asian vehicle with U-hook wiper arm
SPECIFICATION
Brand: RAIN-TECH

Series: RAZOR Hybrid

Size Available: 12", 14", 16", 18", 20", 22", 24", 26", 28"

(Add 1" bigger if your size is an odd number, exp: wiper size 17", choose 18")

Made in Taiwan

Weight: 2Kg
SIMPLE INSTALLATION GUIDE
1. Open the wiper blade clip holder

2. Insert the wiper arm inside the wiper blade

3. Align the wiper blade and wiper arm straight

4. Pull the wiper blade and make the wiper arm clip inside

5. Close down the wiper clip holder

DONE INSTALLATION !!
** Wiper size list down below are not accurate, PLEASE measure again with your car wiper **
SUITABLE MODEL
HONDA
HONDA ACCORD 2003 - 2007 (26/16)

HONDA ACCORD 2008 - 2012 (26/20)

HONDA ACCORD 2013 - 2018 (26/20)

HONDA BRV BR-V (22/16)

HONDA CITY 2002 - 2007 (24/14)

HONDA CITY GM2/GM3 2008 - 2013 (24/14)

HONDA CITY GM6 2014 - 2019 (26/14)

HONDA CITY GN2 2020 - 2021 (26/14)

HONDA CIVIC FD 2006 - 2011 (26/22)

HONDA CIVIC FB 2012 - 2015 (26/22)

HONDA CIVIC FC 2016 - 2021 (26/18)

HONDA CRV CR-V 2007 - 2011 (26/18)

HONDA CRV CR-V 2012 - 2016 (26/16)

HONDA CRV CR-V 2017 - 2021 (26/16)

HONDA FREED GB3/GB4 2008 - 2015 (26/14)

HONDA FREED GB5 2016 - 2021 (26/18)

HONDA HRV HR-V 2013 - 2020 (26/16)

HONDA JAZZ GD 2002 - 2007 (24/14)

HONDA JAZZ GE 2008 - 2013 (24/14)

HONDA JAZZ GK 2014 - 2021 (26/14)

HONDA STREAM RN1/2/3/4/5 2000 - 2006 (24/14)

HONDA STREAM RN6/7/8/9 2006 - 2014 (24/14)
HYUNDAI
HYUNDAI ATOS 1997 - 2014 (20/18)

HYUNDAI ELANTRA HD 2006 - 2010 (24/18)

HYUNDAI ELANTRA MD 2011 - 2015 (26/14)

HYUNDAI ELANTRA AD 2016 - 2020 (26/14)

HYUNDAI GETZ 2002 - 2009 (20/14)

HYUNDAI MATRIX / LAVITA 2001 - 2010 (22/16)

HYUNDAI SONATA YF 2009 - 2013 (26/18)

HYUNDAI SONATA LF 2014 - 2020 (26/18)

HYUNDAI SANTA FE 2012 - 2017 (26/14)

HYUNDAI TUCSON 2009 - 2014 (24/16)

HYUNDAI TUCSON 2015 - 2020 (26/16)
ISUZU
KIA/NAZA
KIA CARNIVAL 2014 - (26/16)

KIA CITRA 2005 - 2009 (24/20)

KIA FORTE 2008 - 2011 (24/20)

KIA K3 CERATO 2012 - 2017 (26/14)

KIA OPTIMA K5 2010 - 2014 (24/18)

KIA OPTIMA K5 2015 - 2018 (24/18)

KIA PICANTO 2004 - 2010 (22/16)

KIA PICANTO 2011 - 2016 (22/16)

KIA PICANTO 2017 - 2020 (22/16)

KIA RIO 2011 - 2016 (22/18)

KIA SORENTO 2009 - 2015 (24/18)

KIA SORENTO 2016 - 2019 (24/18)

KIA SPORTAGE SL 2010 - 2014 (20/20)

KIA SPORTAGE QL 2015 - 2020 (24/16)
LEXUS
LEXUS GS300 2011 - 2015 (24/20)

LEXUS IS250 2005 - 2012 (22/20)

LEXUS RX350 2008 - 2014 (26/22)
MAZDA
MAZDA 2 DEMIO 2007 - 2013 (24/16)

MAZDA 2 DEMIO 2014 - 2020 (22/18)

MAZDA 3 AXELA 2008 - 2012 (22/20)

MAZDA 3 AXELA 2013 - 2018 (24/18)

MAZDA 6 ATENZA 2007 - 2011 (22/18)

MAZDA 6 ATENZA SKYACTIV 2012 (24/18)

MAZDA BT-50 2011 - 2019 (18/18)
MITSUBISHI
MITSUBISHI ASX (24/22)

MITSUBISHI LANCER GT 2007 - 2017 (24/16)

MITSUBISHI OUTLANDER 2012 - 2020 (22/20)

MITSUBISHI TRITON 2005 - 2014 (22/20)

MITSUBISHI TRITON 2015 - 2020 (22/20)
NISSAN
NISSAN NAVARA D40 2004 - 2013 (24/20)

NISSAN NAVARA NP300 2014 - 2019 (24/20)

NISSAN LIVINA / GRAND LIVINA 2006 - 2018 (24/14)

NISSAN SENTRA 2006 - 2010 (22/16)

NISSAN SERENA C26 2010 - 2015 (26/14)

NISSAN SERENA C27 2016 - 2020 (26/14)

NISSAN TEANA J32 2008 - 2012 (24/20)

NISSAN TEANA L33 2013 - 2020 (26/18)

NISSAN X-TRAIL 2013 - 2020 (26/16)
PERODUA
PERODUA ALZA (24/16)

PERODUA ARUZ (22/14)

PERODUA AXIA (22/14)

PERODUA BEZZA (22/14)

PERODUA KANCIL (18/16)

PERODUA KELISA (18/16)

PERODUA KEMBARA 1998 - 2006 (20/14)

PERODUA KENARI (20/18)

PERODUA MYVI 2005 - 2010 (24/16)

PERODUA MYVI 2011 - 2017 (24/16)

PERODUA MYVI 2018 - 2020 (NOT AVAILABLE, due to differernt wiper arm hook)

PERODUA VIVA (22/12)
PROTON
PROTON ERTIGA (22/14)

PROTON EXORA (24/16)

PROTON GEN2 / PERSONA 2007 - 2015 (20/20)

PROTON INSPIRA (24/18)

PROTON IRIZ (24/16)

PROTON PERDANA V2 (22/20)

PROTON PERSONA 2016 - 2020 (24/16)

PROTON PREVE / SUPRIMA S (24/16)

PROTON SAGA 2 / ISWARA / LMST / 1989 (20/18)

PROTON SAGA BLM/ FL/ FLX/ SV/ SE (22/18)

PROTON SAGA VVT 2016 - 2021 (22/16)

PROTON SATRIA 1994 - 2006 (20/18)

PROTON SATRIA NEO (22/18)

PROTON WAJA (22/20)

PROTON WIRA (20/18)

PROTON X50 (NOT AVAILABLE, due to differernt wiper arm hook)

PROTON X70 (NOT AVAILABLE, due to differernt wiper arm hook)
SUBARU
SUBARU FORESTER 1998 (22/20)

SUBARU IMPREZA 2000 (22/18)

SUBARU LEGACY 2000 (22/20)
SUZUKI
SUZUKI SWIFT 2005 - 2012 (22/18)

SUZUKI SWIFT 2013 - 2017 (22/18)
TOYOTA
TOYOTA ALTIS E150/E160 2008 - 2012 (26/14)

TOYOTA ALTIS E170 2013 - 2017 (26/16)

TOYOTA ALTIS E210 2018 - 2021 (26/14)

TOYOTA ALPHARD ANH10 2002 - 2007 (26/16)

TOYOTA ALPHARD / VELLFIRE ANH20 2008 - 2014 (26/16)

TOYOTA AVANZA 2003 - 2011 (20/16)

TOYOTA AVANZA 2012 - 2021 (20/16)

TOYOTA CAMRY XV40 2006 - 2011 (24/20)

TOYOTA CAMRY XV50 2012 - 2017 (26/18)

TOYOTA CAMRY XV70 2018 - 2021 (26/20)

TOYOTA C-HR 2016 - 2021 (26/16)

TOYOTA ESTIMA ACR30 2000 - 2005 (26/20)

TOYOTA ESTIMA ACR50 2006 - 2017 (26/16)

TOYOTA FORTUNER 2004 - 2014 (22/20)

TOYOTA FORTUNER 2015 - 2021 (22/16)

TOYOTA HARRIER XU30 2003 - 2012 (26/22)

TOYOTA HARRIER XU60 2013 - 2021 (26/22)

TOYOTA HIACE 2004 - 2021 (22/20)

TOYOTA HILUX VIGO 2004 - 2014 (22/20)

TOYOTA HILUX REVO 2015 - 2021 (22/16)

TOYOTA INNOVA 2004 - 2015 (22/20)

TOYOTA INNOVA 2016 - 2021 (24/16)

TOYOTA PRIUS C 2011 - 2020 (26/16)

TOYOTA SIENTA 2015 - 2021 (26/14)

TOYOTA VIOS NCP42 2002 - 2006 (20/14)

TOYOTA VIOS NCP90 2007 - 2012 (24/14)

TOYOTA VIOS NCP150 2013 - 2018 (24/14)

TOYOTA VIOS 2019 - 2021 (24/14)

TOYOTA WISH 2003 - 2008 (26/14)

TOYOTA WISH 2009 - 2021 (24/14)

TOYOTA YARIS 2019 - 2021 (24/14)