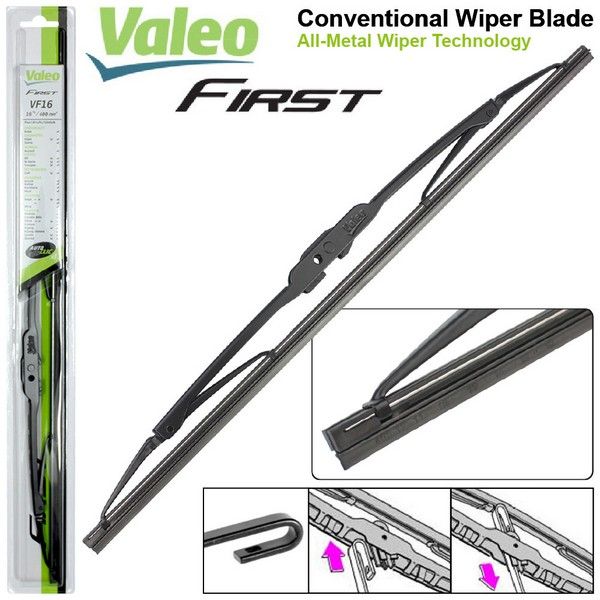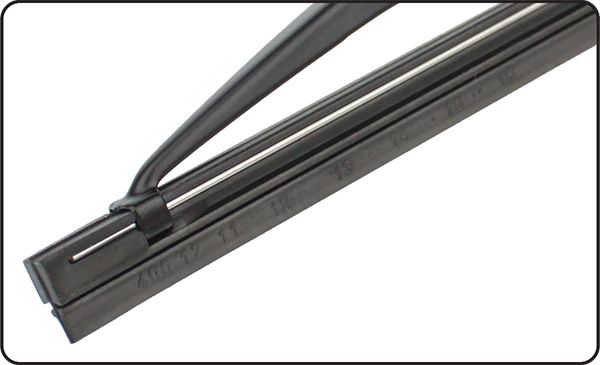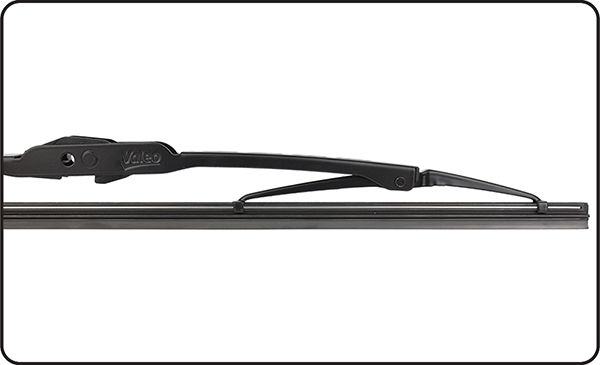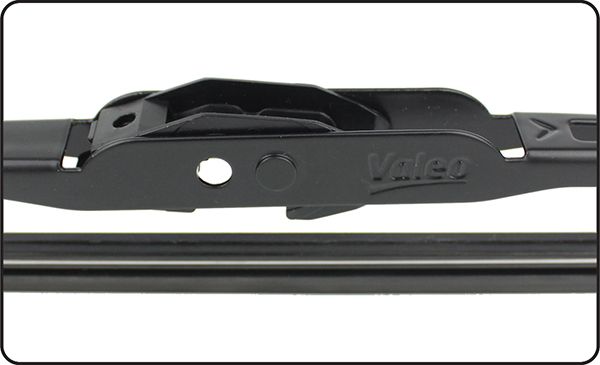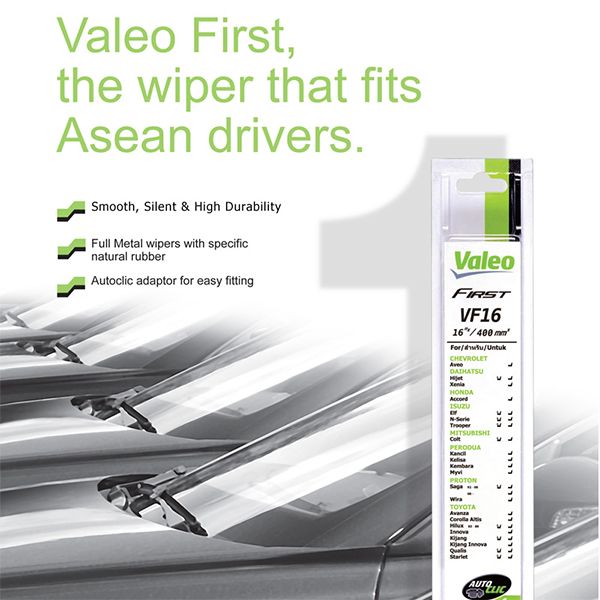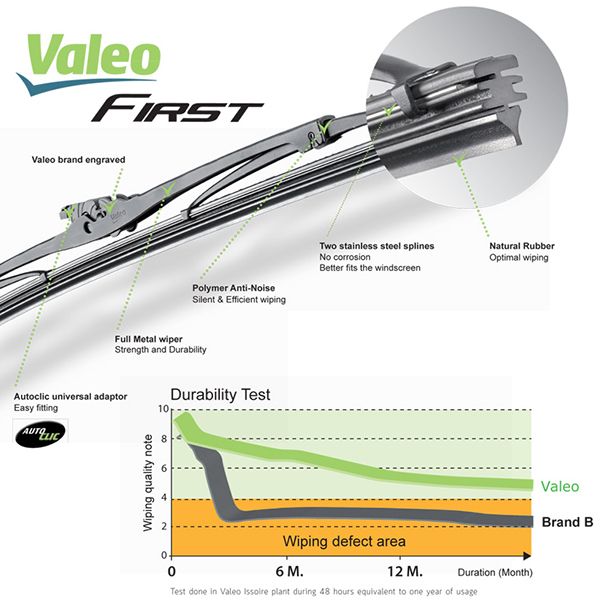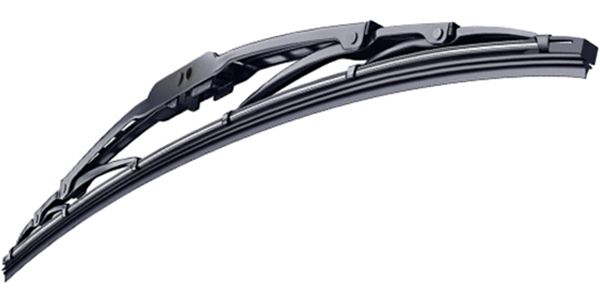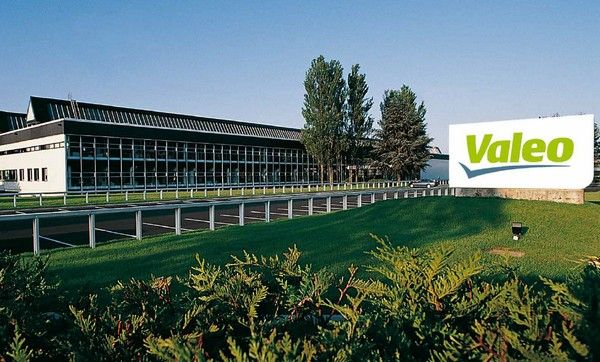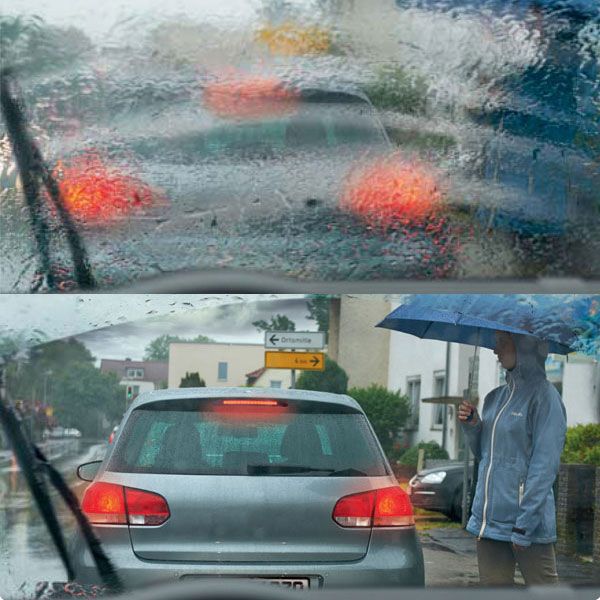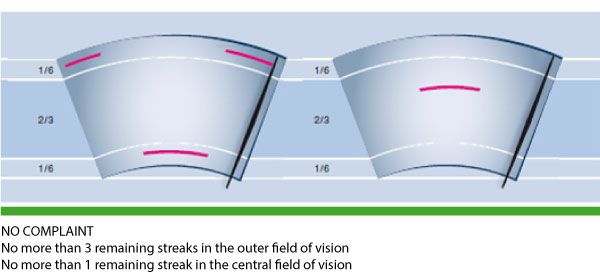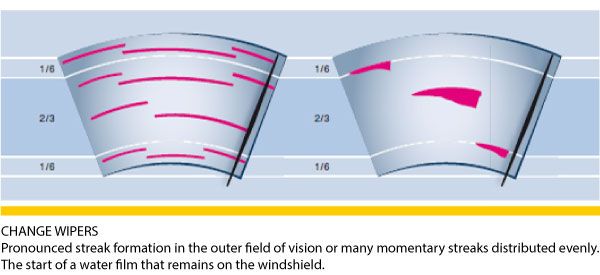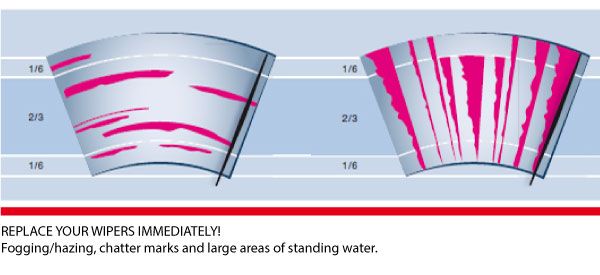 ORIGINAL VALEO FIRST Full Metal Frame Natural Rubber High Quality Conventional Wiper Blade
Valeo is an automotive supplier and partner to automakers worldwide, based in France. As a technology company, Valeo design innovative solutions for smart mobility, providing a wide range of products to auto manufacturers and after-markets more than 100 countries around the world.
Valeo First Conventional Wiper Blades - Simplicity and Performance
The Valeo First conventional wiper blades come with a pre-fitted universal adaptor which simplifies the fitting procedure and easy to follow fitting instructions are supplied. Natural rubber for optimal wipe on windscreen glass, universal pre-mounted adapter for wasy and fast fitting, blister packaging for a clear product visibility. Manufactured by Valeo you can be sure of a high quality blade which will provide a long service life.
Using high quality natural rubber to perform optimal wiping on windscreen glass

Full metal wiper to maximize strength and durability

Special design of "Auto clic" universal adapter to convenient buyer to fit wiper easily

Using polymer Anti-Noise material to improve silence and efficient wiping

Two stainless steel splines which is not corrosion and to improve better fits to windscreen
Size Available: 12", 14", 16", 17", 18", 19", 20", 21", 22", 24", 26"
NOTE: The VALEO Conventional Wiper Blades fit 95% of Asian vehicle brands and any vehicle that has the U-Hook or Bayonet Wiper Arm.
Natural rubber blade for optimal wiping

Easy to install - 1 Click Fitting Adaptor (U-Hook or Bayonet)

Full metal wiper to maximize strength and durability

Using polymer Anti-Noise System for silence and efficient wiping

Increase visibility to keep you safe on road

Two stainless steel splines for no corrosion

Designed by Valeo in France, Made in China
** Wiper size list down below are not accurate, PLEASE measure again with your car wiper **
Car Model Wiper Size Reference:
DAIHATSU
ASCEND 1996 18/18

CERIA 2001 16/18

CHARADE HATCHBACK 1983-2000 18/18

CITYVAN II 1988 17/17

ESPASS 1995 14/16

FEROZA 1988-1999 17/17

FOURTRAK 1989-1998 17/17

HI-JET 1993 16/16

MIRA 1993 17/17

ROCKY 1984-2001 17/17

SPACER VAN 1990 17/17

SIRION II 2004 16/20

SPORTRAK 1989-1998 17/17

TARUNA 1999-2002 18/21

TERIOS 1.3 2006 18/21

TREVIS 2006 16/20

YRV 1.3/ 1.3 TURBO 2000-2005 13/22

ZEBRA 1.3 1995 14/16

ZEBRA 1.3 PICK UP/ 1.5i 1996 14/17
HONDA
ACCORD 1999 19/24

ACCORD 7th GEN 2003-2007 19/24

ACCORD 8th GEN 2008-2012 18/26

ACCORD 9th GEN 2013-2016 19/26

ACCORD 10th GEN 2016 ??/?? (Unknow)

ACCORD EURO R/ CL7 2002-2008 16/24

ACCORD EURO/ CU2 2008 21/24

AIRWAVE 2005 14/24

CITY (SY8) 1996-2002 18/19

CITY 2002-2009 18/20

CITY GM2/ GM3 2009-2013 14/24

CITY GM6 2014 14/24

CIVIC 1.3 1987 19/20

CIVIC (S04) 1995 18/20

CIVIC 2001-2005 19/21

CIVIC FD 1.8/2.0 8th GEN 2006-2010 22/26

CIVIC FB 9th GEN 2011-2015 22/26

CIVIC FC 10th GEN 2016 ??/?? (Unknow)

CRV 1997-2001 20/20

CRV 2001-2006 20/21

CRV 2007-2011 17/26

CRV 2011 16/26

EDIX 2004-2009 19/26

ELYSION 2004 24/26

HRV/ XRV/ VEZEL 2014 18/26

JAZZ/ FIT 2001-2007 14/20

JAZZ/ FIT GE 2007-2013 14/26

JAZZ/ FIT GK 2014 14/24

FREED 2008 14/26

FREED 2010 18/26

INTEGRA DC5 2006 20/24

ODYSSEY 1999-2004 22/24

ODYSSEY 2003-2008 22/24

ODYSSEY 2008 22/26

PRELUDE 1987 18/19

S2000 2.0 1999 16/20

STEP WGN 2.0i 2003 16/24

STREAM (2.0 i-VTEC) 2001-2007 14/24

STREAM (2.0 i-VTEC) 2007 14/26
HYUNDAI/ INOKOM
ACCENT 2000-2005 18/20

ACCENT 2005-2010 16/22

ACCENT 2010 16/22

AVANTE/ ELANTRA 2006-2010 18/24

AVANTE/ ELANTRA 2011 14/28

ATOS 1999 17/20

AZERA 2006 19/24

COUPE 2001 18/20

ELANTRA 2001-2006 18/20

EXCEL 1990-1994 18/18

GETZ 2002-2008 14/22

GRANDEUR 1998-2002 20/22

i10 2008 16/22

i30 2009 18/24

MATRIX 2001-2010 16/22

SANTA FE 2001-2006 20/22

SANTA FE 2007-2012 18/24

SANTA FE 2013 18/24

SONATA (EF) 2002-2005 20/22

SONATA (NF) 2005-2010 19/24

SONATA (YF) 2010 18/26

STAREX 1997 20/24

STAREX 2011 20/24

TRAJET 2000 22/26

TUCSON 2005 16/24

TUCSON 2010 16/24
ISUZU
D-MAX 2.5 DIESEL 2005 19/21

ELF 1995 16/16

PANTHER 2.5 DIESEL 2001 16/22

PANTHER 2.5 DIESEL TURBO 2001 16/21

RODEO 1991 18/18

RODEO TURBO 4WD 2004 19/21

TROOPER 1981 16/16

TROOPER 1995 18/18
KIA/ NAZA
206 BESTARI 2000 16/26

CARENS 2000-2002 19/24

CARNIVAL/ RIA/ SEDONA 1999-2006 24/24

CARNIVAL/ RIA/ SEDONA 2006 18/24

CERATO 2008-2013 20/24

CITRA 2002-2006 18/24

CITRA II 2007 16/26

MAGENTIS 2003 19/22

NAZA RIA 2003 24/24

FORTE 2010 16/21

K5 2012 14/28

OPTIMA 2001-2007 20/22

PICANTO/ SURIA 2004 16/22

PREGIO 2002 19/21

RIO (DC) 2000-2005 18/21

RIO (JB) 2005-2010 16/22

RIO (UB) 2011 16/22

RONDO 2007 16/26

SEPHIA 1999 19/21

SORENTO 2004 19/24

SOUL 1.6/ 2 2008 20/24

SPECTRA 2000-2004 19/21

SPECTRA 5 2005-2008 16/24

SPORTAGE 1994-2003 20/20

SPORTAGE 2004-2010 16/24

SPORTAGE 2011 18/24

SURIA/ PICANTO 2004 16/22
LEXUS
GS 300 2006 20/24

GS 430 2005-2008 20/24

IS 205 2006 20/22

IS 300 2001-2005 19/22

LS 400 1994-2000 16/22

LS 460 2006 16/24

LX 470 1998-2007 20/20

LX 570 2008 22/24

RX 1998-2002 21/24

RX 2002-2008 22/26

RX 2007 22/26

RX 2008 22/24

SC 430 2005-2008 20/24

RX 350 2007 22/26

MARK X 2004-2009 20/22

MARK X 2009 16/24
MAZDA
2 2nd GEN 2002-2007 16/24

2 3rd GEN 2007 14/24

3 1st GEN 2004-2009 19/21

3 2nd GEN 2009-2013 19/24

3 3rd GEN 2013 19/24

323 1998-2003 18/21

5/ PREMACY 1999 16/26

5 2006 16/26

6/ ATENZA 2002-2008 19/22

6/ ATENZA 2007-2013 16/24

6/ ATENZA 2012 18/24

6 2004 18/21

ASTINA 1991 18/21

CX-5 2012 16/24

CX-7/ CX-9 2006-2008 16/26

FIGHTER 2003 18/18

LANTIS 1994 18/21

MPV 1999 24/24

MX-5 MIATA 2006 18/18

PREMACY 1999 16/24

RX-7 2002 19/20

RX-8 2003 18/20

TRIBUTE 2001 19/19
MITSUBISHI
AIRTREK 2001-2008 18/21

ASX 2010 21/24

CANTER 1996-2003 20/20

COLT 1989-1996 18/20

COLT 1995-2003 19/21

COLT 2002-2012 12/26

COLT 2008 13/24

DION 2000 19/22

EXPRESS 1994 18/18

FUSO 1990 18/18

GALANT 1.8i 1998-2000 18/22

GALANT 2.0i 1996-2003 18/21

GRANDIS 2003 22/28

L200 1995 18/18

L300 VAN 1980 17/17

LANCER EVO 9th GEN 2000-2004 17/24

LANCER EVO 9th GEN (FACLIFT) 2004-2007 18/24

LANCER EVO X/ EX/ 10th GEN 2007 17/24

MAVEN 1.6i 2007 18/18

OUTLANDER 2003-2007 19/21

OUTLANDER 2007 21/24

PAJERO/ SHOGUN 1990-1999 19/19

PAJERO 10/ SHOGUN 2000 20/20

PAJERO SPORT 3.0i V6 1996 20/20

SPACE WAGON 3rd GEN 1997-2003 18/26

STORM 2000 18/18

TRITON 2005 19/21
NISSAN
AD RESORT 1994 18/21

ALMERA 1.6/ 1.8 2000 16/22

ALTIMA 1994 18/21

BLUEBIRD 1984 20/20

CABSTAR 1992 17/17

CARAVAN 2001-2007 19/19

CADRIC (DIESEL) 1987-2002 19/20

CEFIRO 2nd GEN 1994-1998 20/21

CEFIRO 3rd GEN 1998-2003 19/24

CEFIRO 4th GEN 2003-2008 18/26

FAIRLADY Z33 2002-2008 18/20

FAIRLADY Z34 2008 19/21

FRONTIER 2004 18/18

GRAND LIVINA 2007 14/24

JUKE 2010 14/20

LAFESTA 2004 12/26

LATIO 2005 16/22

LIVINA 2007 14/24

MARCH/ MICRA 1992-2002 18/21

MARCH/ MICRA 2002-2010 18/20

MARCH/ MICRA 2010 18/20

MURANO 2003 18/26

NAVARA 2003 19/24

PATHFINDER 1995 21/22

PATROL 1983 16/16

PICKUP 1997 19/20

PICKUP 2001 17/17

PRESEA 1995-2000 19/21

PRIMERA 1995-2000 19/21

PRIMERA 2001-2005 19/26

PUKSAR 1982 18/20

SENTRA 1.6/ 1.8 2000-2006 16/22

SENTRA 2007-2012 17/26

SERENA 2.0 2001 14/26

SYLPHY 2000-2005 17/22

SYLPHY 2008 17/22

SUNNY/ TIIDA 1995-1999 18/20

SUNNY/ TIIDA 2000-2006 16/22

SUNNY NEO 2000 16/21

SILVIA S14/ S15 2002 20/21

SKYLINE R35 + SH-1 2009 19/22

TEANA 2003-2008 19/24

TEANA 2009-2013 19/24

TERRANO 1995 18/19

TIIDA/ LATIO 2005 16/22

URVAN 1986 19/19

X-TAIL 2003 16/24

350Z 2003-2009 18/20

370Z 2009 19/21
PERODUA
ALZA 2009 17/24

AXIA 2014 14/21

BEZZA 2016 14/21

KANCIL 1994-2007 16/18

KELISA 2001-2007 18/19

KEMBARA 1998-2006 14/21

KENARI 2000-2007 17/19

MYVI 2005-2010 17/20

MYVI LAGI BEST 2011-2014 17/21

MYVI ICON 2015 ??/?? UNKNOW

RUSA 1996 15/15

VIVA 2007 12/20
PROTON
SUZUKI
AERIO 1.5i 2001 18/22

ALTO 2010 14/21

APV 1.5i 2004 18/18

APV 1.6i 2004 16/16

E-RV 1999-2005 16/16

BALENO 1996 16/21

CARRY 1990 12/17

ERV 2002 16/16

ESCUDO 1.6i 1994 18/19

ESCUDO 2.0i 2001 16/16

ESCUDO 2.5i 2003 19/19

GRAND VITARA 1999 19/19

JIMNY 2000 16/18

KARIMUN 1.0 1998 18/20

KATANA 1.0 1996 12/12

SIDEKICK 1.5 1995 18/18

SK410 VAN 1985 17/17

SWIFT 1994-2004 18/18

SWIFT 2004-2010 18/21

SWIFT 2010 18/21

SX4 2006 14/26

VITARA 1988-1998 19/19

WAGON R+ 1997 18/20
SUBARU
E10 VAN 1984 17/17

FORESTER 1997-2002 19/21

FORESTER 2002-2007 19/22

IMPREZA 2000-2007 18/21

LEGACY 1998-2003 20/22

LEGECY 2003 18/24
TOYOTA
ALTEZZA 2005 19/22

ALPHARD 2002-2008 16/26

ALPHARD 2008 14/28

ALTIS 2001-2008 16/24

ALTIS 2008 14/26

ALTIS 2012 16/26

AXIO 2006 14/26

AVANZA 1.3/ 1.5 2004 16/20

CALDINA 2002-2007 16/24

CAMRY 2002-2006 19/24

CAMRY 2006 20/24

COROLLA 1.5i 2000 16/24

COROLLA 1.6 1987-1992 18/20

COROLLA 1.6 1996-2001 18/19

COROLLA 1.8i 1992-2996 18/19

COROLLA 1.8i 1996-2001 18/20

COROLLA 1.8i 2001-2007 19/22

COROLLA 2.2 DEISEL 1998-2000 18/20

COROLLA 2.2 DIESEL 2000-2004 16/24

COROLLA SPACIO 1.6i 1997-2001 18/24

COROLLA PREMIO 1.6i 1996-2001 18/21

CORONA 1.6i 1993-1998 18/18

CORONA 2.0i 1993-1999 18/20

CORONA PREMIO 1.6i 1996-2001 18/21

CRESSIDA 1984 18/18

CROWN 1983 18/18

CROWN 2.8 DIESEL 1995 20/20

DYNA 115/ 125/ 140 2002 19/19

ECHO 1.3i/ 1.5i 2000-2002 16/22

FORTUNER 2005 19/21

FORTUNER 2.7i 2005 18/20

HARRIER 1998-2003 21/24

HARRIER 2003-2007 22/26

HIACE 1995 18/18

HIACE COMMUTER 2.8 DIESEL 1989-1998 19/19

HIACE DYNA 1989 17/17

HILUX 1995-2004 17/17

HILUX VIGO 2004 19/21

INNOVA 2004 19/21

ISIS 1.8i 2004 16/24

KIJANG 1.5 1985-1995 16/16

KIJANG 1.8 1995-1996 16/17

KIJANG 1.8i 2000-2004 18/18

KIJANG KAPSUL 1991-2004 17/18

LAND CRUISER 1987 17/17

LAND CRUISER 1995 18/20

LAND CRUISER 1998 20/20

LAND CRUISER 2000-2006 22/24

LITE-ACE 1985 20/20

MARK X 1st GEN 2004-2009 20/22

MARK X 2nd GEN 2009 20/22

PREVIA 2.4i 2005 26/26

PICNIC 1996-2001 16/24

RAV 4 2001-2005 19/22

RAV 4 2006-2008 16/24

RUSH 2006 18/21

SOLUNA 2002 14/22

VIOS 2003-2007 14/20

VIOS 2007-2013 14/24

VIOS 2013 ??/?? (UNKNOW)

VOXY 2.0i 2001-2007 14/26

WISH 2003-2009 14/26

WISH 2009 18/21

YARIS 2006 14/24

YARIS 1.0i 1999 14/21

YARIS VERSO 1999-2005 16/22

ESTIMA 2005 18/28

ESTIMA 2006 16/28

PRIUS 2009 16/26

VELLFIRE 2008 14/30
VOLKSWAGEN
EOS 2006 19/24

BEETLE (MK1) 1986 11/11

BETTLE 1998 21/21

BORA 1.6 1999-2000 19/21

GOLF II 1983 16/16

GOLF III/ IV 1991-2000 19/21

GOLF V 2003-2005 19/24

GOLF V (5K1) 2008 19/24

JETTA 1999 19/21

JETTA (1K2) 2005 19/24

PASSAT 1.6 1999-2000 21/21

PASSAT (3C2)/ PASSAT CC (357) 2005 19/24

POLO (MK3) 1990 16/16

POLO 1.0 1996-1999 19/19

POLO (9N2/3) 2002-2009 19/21

POLO 2009 16/24

TIGUAN 2007 21/24

TOUAREG (7LA) 2002-2006 26/26

TOUAREG (7L6) 2007 26/26

VENTO 1991 19/21