TOYOTA VELLFIRE 2015 - 2019 Clear / Electroplating Gold Cover LED Light Bar Tail Lamp with Sequential Signal (Pair) [TL-279-C3]
ATTN: CAR LOVERS, HARDCORE DRIVERS, PARENTS AND YOU THAT OWN A CAR..
.
.
HOW TO INCREASE SECURITY AT NIGHT VIA GIVING YOUR RIDE A TRANSFORMATION LOOK THAT IS DIFFERENT FROM OTHERS
.
.
[FREE T10 6000K CRYSTAL WHITE LED CAR PLATE LIGHT RM88] WHEN YOU BUY A PAIR OF "TOYOTA VELLFIRE 2015 - 2019 Clear / Electroplating Gold Cover LED Light Bar Tail Lamp with Sequential Signal "
.
MERCEDES BENZ and BMW in the 20's created LED Tail Lights that revolutionize today world and now you get to enjoy these in your own ride without getting a continental car.
.
.
Imagine that you own a normal ride and yet your tail lamp has the latest technology and looks, how cool is that?
.
Imagine that produce better braking brightness that is higher security than your current tail light?
.
how secure would that be?
.
Imagine if your current tail lamp is a blur and others driver hardly notice
.
would that be dangerous to you and your love once?
.
.
Then I have great news for you..
.
.
======
WHY I ONLY RECOMMEND EAGLE EYES AND NOT OTHERS BRANDS?
======
.
Give me the next 3 minute of your time and I'll share why I only sell EAGLE EYES from Taiwan and how can this brand give you a transformation look with a peace of mind.
.
Hi, my name is Max, most people call me abang max
.
I am a car accessories seller for more than 12 years since 2006 and my vision is to transform car lovers lifestyle around the world for a pleasant driving experience and quality car lifestyle that helps men to
be more in control of their life; women for a secure driving experience and more variety of Gift to their men.
.
That is why I created maxaudio.com.my for advance car enthusiast with a click or swipe of your device and u are able to find lifestyle quality car accessories to spice up your boring life and allow your 2nd
wife to shine as how you want it to be according to your blueprint in mind.
.
I started selling car lighting since 2007,
.
I remember the first brand was X Brand, the price was reasonable but the quality is bad.
.
Each time when I made sales, my heart does not feel safe.
.
In my mind, I will always predict when the customer will come back for warranty claim.
.
And is true the next 3 to 5 days,
.
customer will give me a call and complain that the led was burn or water goes into the tail lamp.
.
From there, I start switching selling other brands
.
I tried over 10 brands and were one of my customers introduced me to EAGLE EYES
.
When I first took the distributorship, I was shocked at the profit margin and the selling price.
.
But the salesman told me to keep selling and sell with confidence.
.
I did not understand but I gave it a try
.
I sold more than 223 sets during 2010 and I found that it is rarely easy to sell even though the price was high.
.
Eagle Eyes gave me 2 Years Warranty as a Mega Dealer due to my volume in sales.
.
But I hardly used the warranty claim at all.
.
Out of 200 sets, only 1 or 2 sets were a manufacturer defect
.
And this build up my confidence to only sell EAGLE EYES.
.
And from 2010 - 2019, I have sold more then 2351 sets of lighting that got me winning best merchant awards year after years.
.
.
======
IS THIS WHAT YOU WANT?
======
.
While most drivers are happy with the standard taillights installed with their car.
.
some want extra flair that helps their car stand out.
.
.
(+) Would it be great if your ride looks different from the rest on the road?
.
(+) Would it be great that you have a brighter tail light alert at night without offending JPJ law?
.
(+) Would it be great that your ride has the same technology and looks like those luxury cars?
.
.
Taillight is now an important safety item that helps drivers communicate their intentions to other drivers.
.
New types of taillights using LED technology are becoming increasingly popular.
.
LED lighting offers clear advantages over the incandescent lighting that has been traditionally used in automotive taillight applications.
.
Incandescent lights utilize a filament that creates light when it is electrically charged.
.
This filament is both delicate and produces a great deal of heat.
.
LED taillights do not suffer from these drawbacks, so they are more efficient and less prone to the damage that continuous use on rough roads can produce.
.
.
======
DON'T BUY UNTIL YOU READ THIS 10 UNIQUE BENEFIT
======
.
.
(+) WATERPROOF - LED taillights use solid-state technology, which means they are sealed and completely waterproof. Excellent for use in wet driving conditions, also resistant to dirt and oils that are on
roadways
.
(+) LONGER LIFESPAN - LED lights have no filament to burn out so they last up to 10 times longer than incandescent light bulbs
.
(+) LESS POWER - LED lights are efficient and use less than half the power that traditional bulbs use. Important for electric vehicles; can save money in gasoline-based automobiles as well
.
(+) SHOCK RESISTANT - Solid state technology means no moving parts or delicate wires needed to produce lighting.
Much less prone to the effects of vibrations or bumps
.
(+) CORROSION RESISTANT - LED lights do not require the metallic connections of incandescent lights. No metallic connections to conduct electricity means no possibility of corrosion
.
(+) QUICK RESPONSE - LED taillights are 25 percent quicker to activate than incandescent lights. Provide increased safety due to quicker response
.
(+) SMALLER - LED taillights require reduced space to house the lighting elements. Can fit in smaller spaces than incandescent lights that need larger bulbs to produce required lighting
.
(+) LOWER TEMPERATURE - LED lights do not utilize a filament that burns in order to produce light. No burning means LED lights do not produce heat
.
(+) NO WARRANTY VOID - These lights have been well designed and made as close to match factory standard, they will replace your original lights! Using your factory supplied connector/harness will avoid cutting
or modifying any wires.
.
(+) PERFORMANCE - Our lights not only give your vehicle a new look, but they also make sure it stands out in the crowd! Many of our lights increase safety and visibility, especially with LED and light plank
technology incorporated in them
.
All lighting functions are much brighter than standard lights, making you safer on the road for other road users to see.
.
These lights have been specially designed and made as close to match factory standard, they will replace your original lights directly!
.
Using your factory supplied connector/harness will avoid cutting or modifying any wires.
.
.
======
WHY CHOOSE EAGLE EYES AND NOT OTHERS?
======
.
.
(+) 2 YEARS WARRANTY - It is the only brand that comes with 2 Years Warranty, from the warranty, you can tell the confident and competence of this company
.
(+) REPLACEMENT LED/ CCFL - It is the only brand that comes with after buy spare parts can be replaceable, no worries even after 2 years, can can fix it for you
.
(+) NO WATER LEAK - I seen many brands no.1 biggest failure is when the water goes into the tail lamp, well, this will never happens to EAGLE EYES with it's special temperature & humidity test technology
.
(+) NEVER TURN YELLOW - No matter what ride you are driving, a BMW or a MERCEDES. Once the time hits 10 years and above, your lamp turn yellow. With Eagle Eyes Poly-carbonate tail Lamp Casing, you never get a
yellow tail lamp that makes your ride looks bad.
.
(+) NEVER SEE A MISSING LED - You may notice, some ride have missing LED, 1 side of their LED/ Light Plank is burned. If this happens to EAGLE EYES, it can be easy to replace and you get your ride shining
again.
.
(+) 100% MANUFACTURED IN TAIWAN - Taiwan is well known as the world leading electronic engineering. Most Japanese and German production are from Taiwan. And this leave you a peace of mind that you are
definitely getting a quality product for a long term investment.
.
.
======
WHY BUY FROM US & OUR GUARANTEE TO YOU?
======
.
(+) We provide 2 Year Warranty where most dealer only provide 1 year
(+) Warranty Card Included (Online Registration)
(+) Warranty Include: LED/ LIGHT PLANK Burn, tail Lamp Turn Yellow and Water Goes In
(+) Excellent Customer Service: That will do our best to serve you after your buy to maintain a long term relationship.
.
.
======
FREE GIFT
======
.
(+) For the 1st 20 Customer, we will be giving Free T10 6000K Crystal White LED Car Plate Light for Significant Looks
(+) Extra Bonus and Cash/ Gift Certificates
.
.
======
3 SIMPLE STEP TO INSTALL
======
.
[STEP 1] Remove your original tail lamp
[STEP 2] Install this new tail lamp
[STEP 3] Plug back the power socket
.
.
======
NOW IS YOUR DECISION
======
.
(+) You can choose not to install and nothing will happen
(+) You can choose to get from others supplier on your risk
(+) Or you can choose to get from us under our Guarantee Protection for 2 Year and Quality Assurance
.
P/S: Limited Stock are available and price changes time to time base on import currency and tax duty
.
1st 20 Customer gets a pair of T10 6000K Crystal White LED Car Plate Light for Significant Looks
.
Do take this advantage if you want to say goodbye to boring tail lamps and would like to give your ride a new transformation looks and a better night vision for greater driving pleasure
General Features:
Product comes in 1 Pair

2 Years Warranty (Spare Parts Replacement Available for Warranty)

Products Comes with 100% Original EAGLE EYE Warranty Card with Serial Number that can be claim at any EAGLE EYE Distributor/ Outlet

100% Made in Taiwan
JPJ Approve E9 E-Mark with safety quality assured

Complete Plug & Play socket harness with no wire cut to protect manufacturer warranty

Eagle Eyes got Manufacturing of Automotive Lighting Experience which more than 32 Years

International Automotive Lighting Safety Standard

Quality Certification: DOT, Germany RW-TUV, ISO 9001:2000, ISO 17025/ ISOTS 16949, CAPA of American Society Insurance, EU Specifications (E-Mark), American SAE (Lighting Standard)
Product Material
Lens: PC (Polycarbonate) (Heat Resistant 110C - 120C) Can withstand HID Bulbs

Back Housing Part: 20PP (Polypropylene) (Heat resistant 85C - 95C)

Beam Reflector: BMC (Bulk Molding Compounds) (Heat Resistant 260C)

Day Running Light: LED (Light Emitting Diode) Lighting around 7000K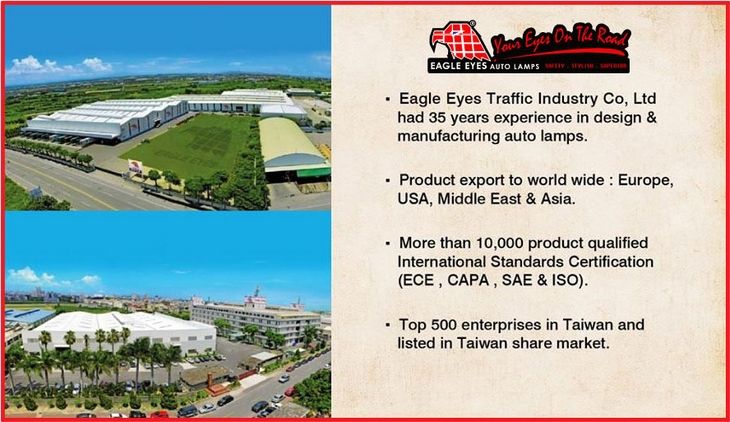 About
One Stop Automotive Lighting Service Center

International Automotive Lighting Brand

35 years experience on automotive lighting part manufacturing

Products certified with international automotive lighting safety standard

ECE, CAPA, SAE & ISO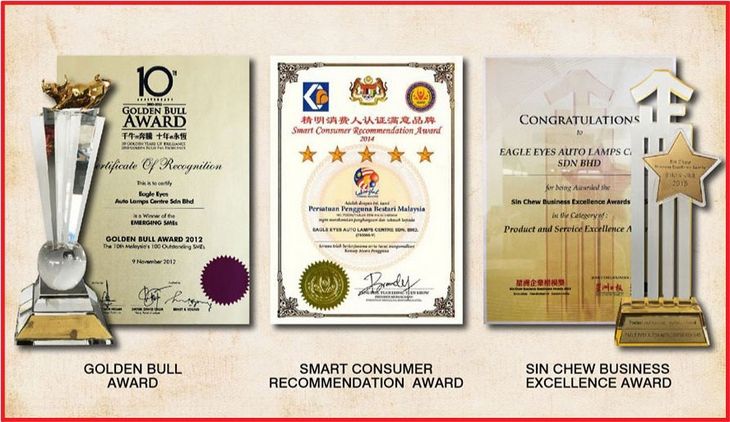 Achievements
Golden Bull Award at 2012

Smart Consumer Branding at 2014

Sin Chew Excellent Business Award at 2015
Aproved
With E-Mark Recognition (Economic Commision of Europe)

Certifications by JPJ (Road Transport Department of Malaysia)

Legal to be use on the road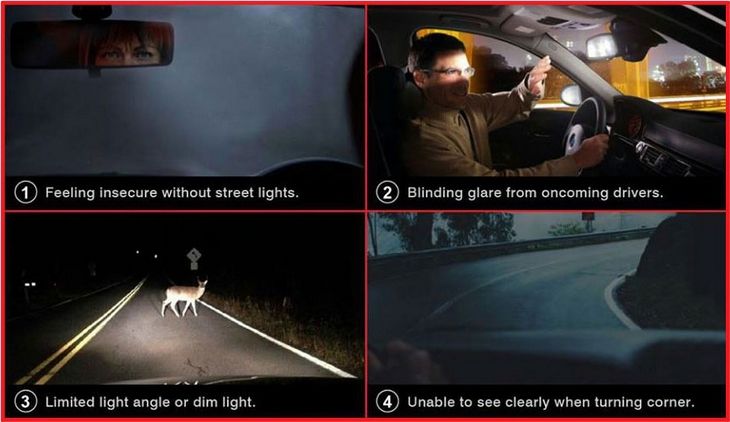 Do you face this problem before?
Driving at night without street lights are hazardous, At Eagle Eyes we make sure every drivers are equipped with headlight that helps them have better visibility of the road.
Every Eagle Eyes Headlights are dazzle-free, meaning it won't give other road users blind glares.
Normal/ Original Reflector headlights have limited light output and narrowed light angle, whence Eagle Eyes Headlights are more immense in terms of width angle and far-ranging on its light output distance.
While Reflector headlights will not illuminate too far ahead of the vehicle, Eagle Eyes Headlight will be helpful for drivers to see upcoming obstacles/ car ahead braking/ indication of corners or other hazards ahead.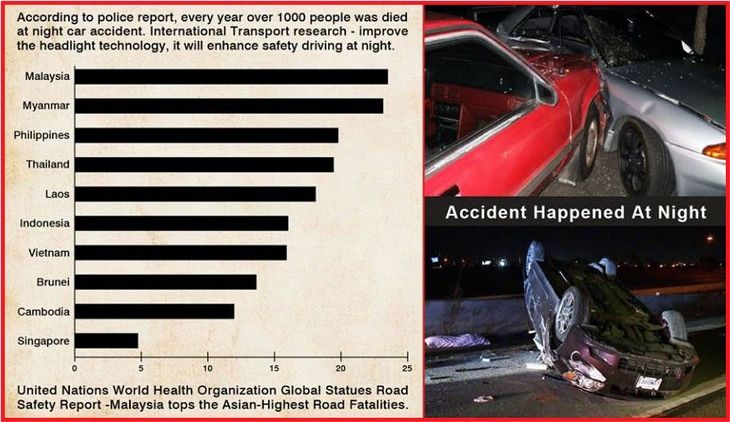 Deadly accidents (Occur at Night)
Deadly accident happen mostly at night

Improve the headlight technology & it will enhance safety driving at night

Currently Malaysia is at the the top ranking of the Asian-Highest Accident Fatalities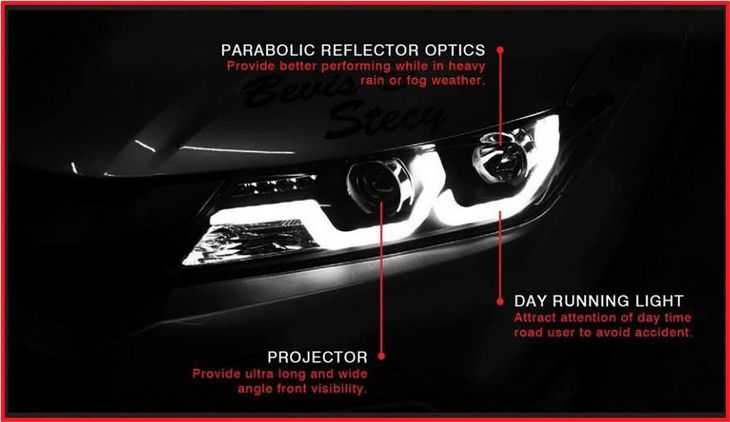 Head Light Structure
Projector headlight provide the more clear Visibility

Day Running Light (DRL) functional for attract to the road user enhance the crash accident happen

Using the Reflector Optics during heavy rain is more better for our Visibility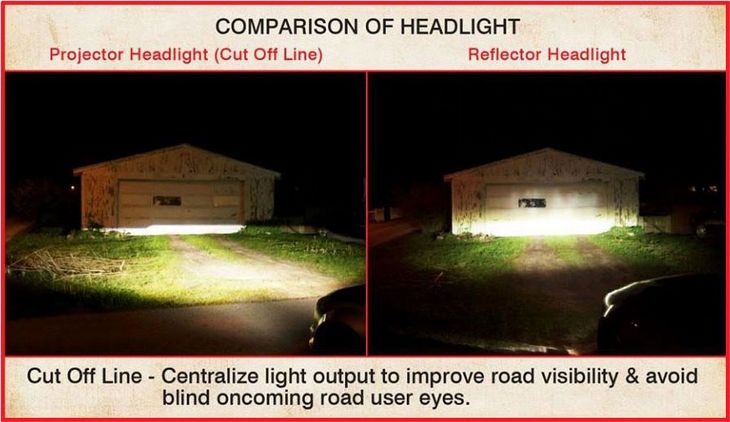 Advantage Projector Head Light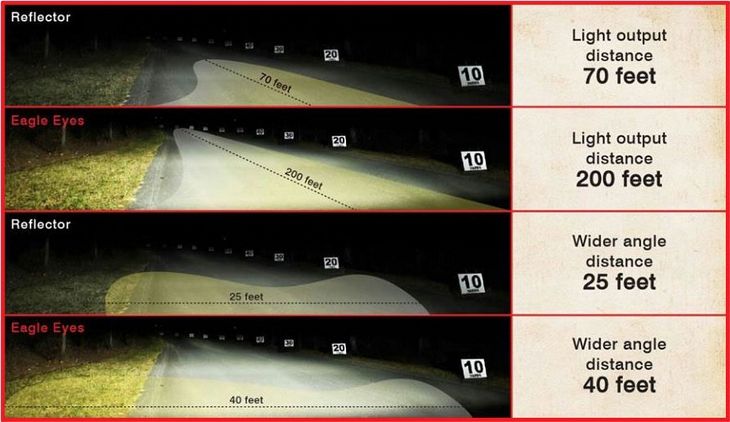 Comparison Reflector vs Eagle Eyes Head Light
Eagle eyes headlight projector 3 times much longer compared vs visibility reflector headlight

Eagle eyes more visibility to 45 feet wide compared reflector lamp

Had been tested in the for light beam during heavy rain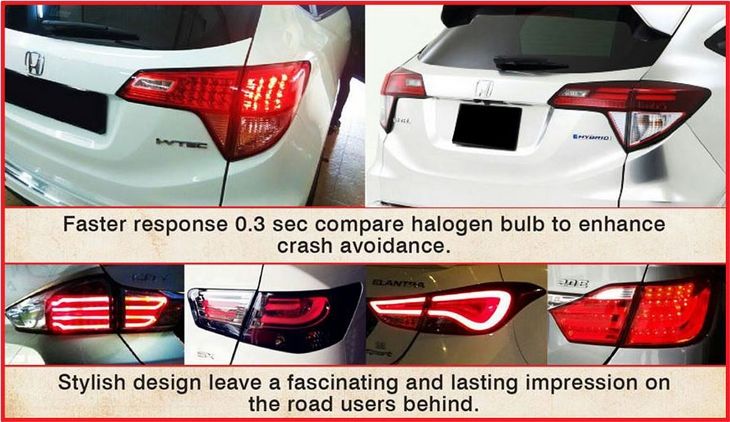 Advantage LED Tail Light
Eagle Eyes taillight's driving light are equipped with LED / LED Light bars giving it more attention to other drivers on the rear side compared to the bulbs.

Every Taillights are designed stylishly and achieved international safetyness standard, making the vehicle look more magnificient and letting drivers drive safely at the same time.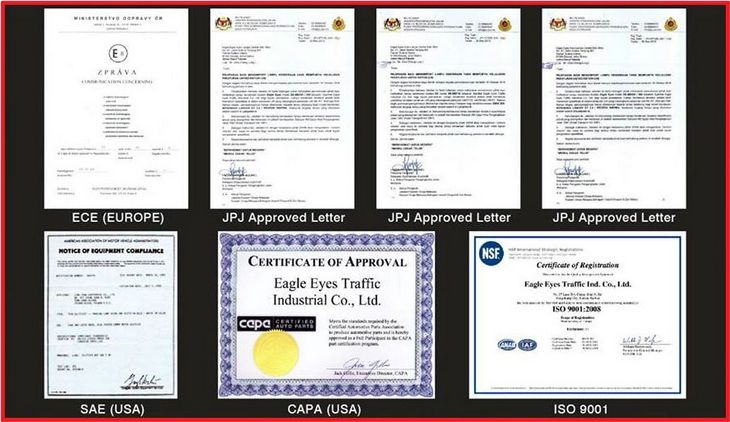 Quality assurance when purchasing Eagle Eyes Lighting
International Certificate & JPJ Approval

Approved by JPJ (Road Transport Department of Malaysia)

Achieved international quality with certifications from ECE(Europe), SAE (US), CAPA (US) & ISO 9001
Factory facilities
Eagle Eyes production undergoes a strict manufacturing

Which look beyond the conversion of its materials and processes which lead to quality finished products

Eagle Eyes factory in Taiwan uses the latest technology and proffesional equipment to improve the quality and efficiency of all its products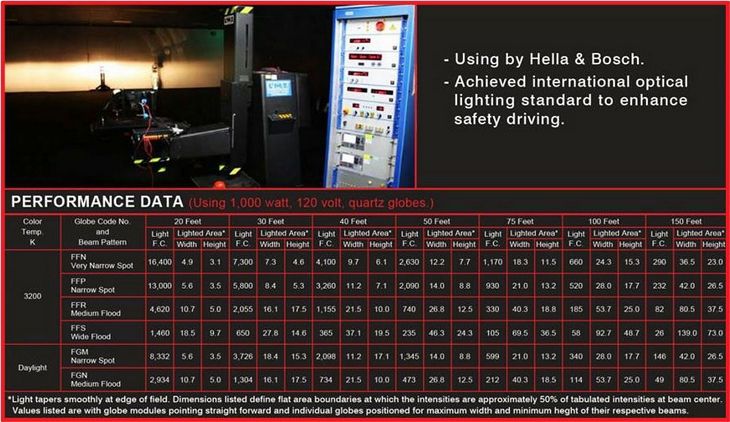 Photometric machine
The photometric machine that EAGLE EYES used is imported from U.S.A.

This is the same machine that widely used by well-known European car automotive maker companies such as Hella, AL Automotive and Bosch to perform photometric test

It has achieved International Standard Optical test to check the compliance of the luminance (sd or lux), saturation and adjust function of each lamp

Using Geometrical measurement. A measuring project is used to check the filament geometry with regard to the statutory standards in accordance with Euro Standard

The filament has to have the size and position within the bulb specified in the standard

This is the only way to achieve optimum light power in the headlights and prevents oncoming drivers from being blinded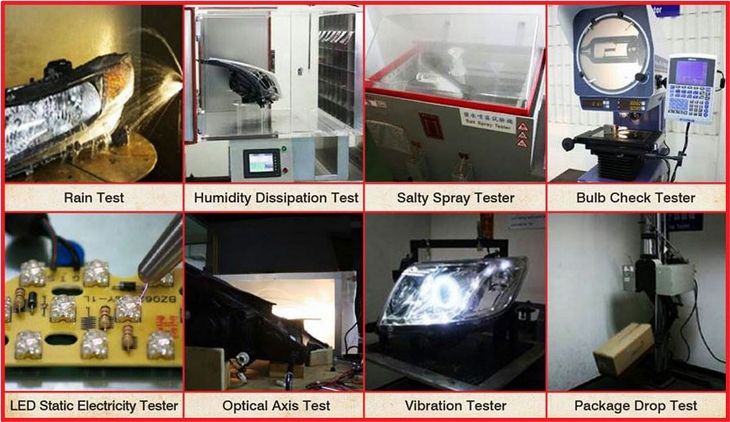 Environmental Test
All of Eagle Eyes products undergo environmental tests. The engineers at Eagle Eyes Quality Assurance department have specified a clear requirement profile for every lights produced.
Headlight's projector, for example, are scrutinized by our engineers for their light distribution properties, using state-of-the-art light measuring equipment.
Paint adhesion tests in accordance with ECE automotive regulations (E-Mark of the Economic Commission for Europe), vibration and shock tests in line with ECE requirements, geometry measurements,light flux and power measurements as well as service life tests guarantee that all our customers receive it in perfect quality.
These and further tests are carried out by Eagle Eyes quality assurance engineers.
All our Automotive Lights fulfill this performance spectrum:
1. Five hours of off-road driving are simulated by uniform spraying with mud.
2. For one hour, the headlamps are subjected to temperatures between -4O°F and +176°F. Shock treatment between the arctic and tropics.
3. For one hour, the headlamps are sprayed with water at a pressure of 58 psi. This simulates driving in torrential rain.
4. One hour of vibration testing at 750 oscillations per minute. This simulates the toughest conditions resulting from potholes, cobblestone pavement, and other off-road tortures.
5. Heat Test – Part 1 – 24-hour Test
The headlamp remains switched on constantly for 24 hours – alternating between low beam and high beam.
6. Heat Test – Part 2
The headlamp is subsequently exposed to a temperature of 122ºF for one hour.
7. Vibration Test
This test simulates the behavior of the headlamp during driving.
8. Splash Test
How does the headlamp react when it is exposed to rain, splashes of water and the car wash?
9. Fogging Test
The headlamp is left switched off and exposed to water stem (68ºF, 100% air humidity).
10.Evaluation of Lighting Technology
Technical lighting investigations are carried out at Eagle Eyes. The technical specifications must meet Eagle Eyes standards before considering production.
11. Service life test
Sophisticated tests are used to prove the high reliability of the Hella bulbs over a long period.
12. Vibration and shock test
Vibration resistance of the bulbs and the filament in particular is tested on an electrodynamic vibration table.
13. Geometrical measurement
A measuring project is used to check the filament geometry with regard to the statutory standards in accordance with IEC 60810. The filament has to have the size and position within the bulb specified in the standard. This is the only way to achieve optimum light power in the headlights and prevents oncoming drivers from being blinded.
14. Light flux measurement
The Ulbricht sphere and goniometer are used to determine the light fluxes and luminous intensities of the bulbs in the headlights. This guarantees optimum light output of the bulbs.
15.Paint adhesion test
The adhesion of paint on colored glass bulbs - such as the PY21W for example - is tested in a climate chamber at different temperatures and air humidities. Optimum adhesion of glass bulb paint guarantees the prescribed amber indicator light over the complete service life period.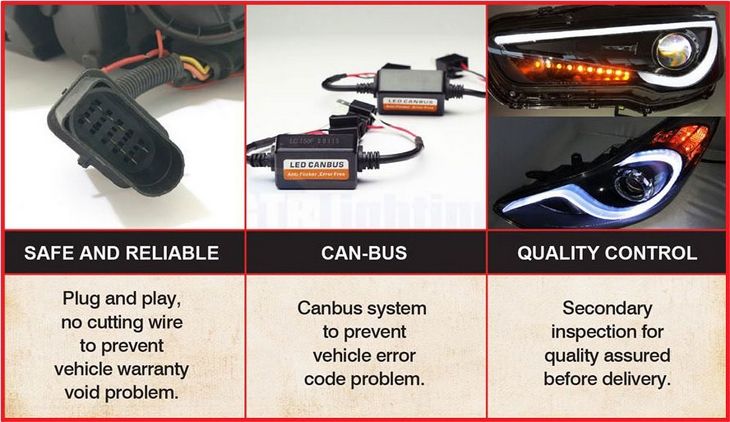 Reliable Product

Our product socket designed with OEM standard, plug and play, never affect original car warranty

Canbus system to prevent car error signal problem, so you no need worry to spend extra money and time to reset the car system

We double check the lighting function before send to the customer to prevent defective issue happening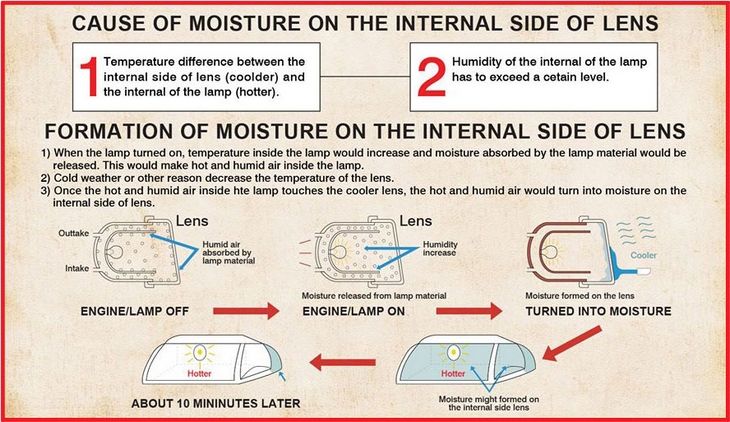 Why lens got moisture? (Moisture is not water leaking)
Moisture is not a problem, it is normal if happen within 14 days (Depends on area)

Temperature difference between internal lens and internal lamp, when the cold air go inside the light, temperature make it become moisture

It will automatically disappear within 14 days (Depends on the area)