More info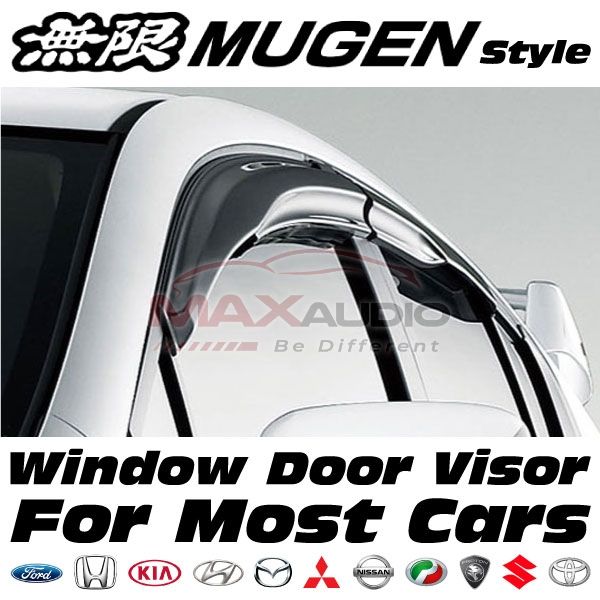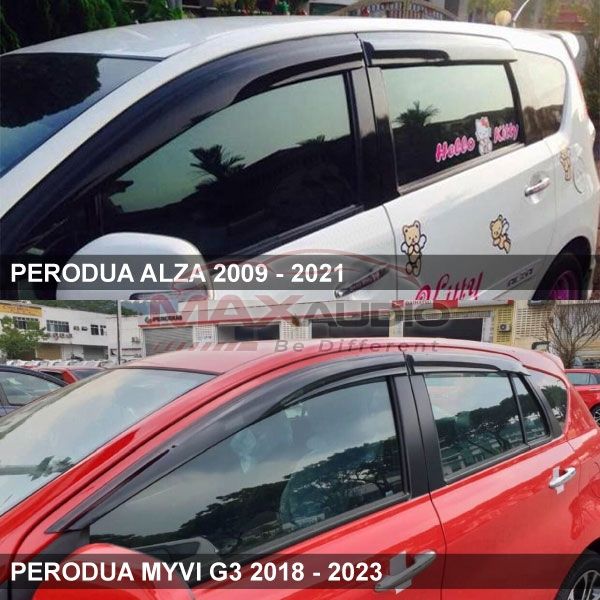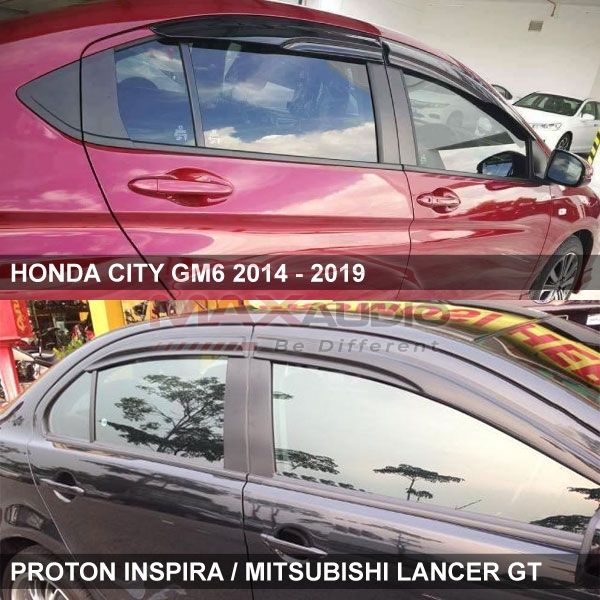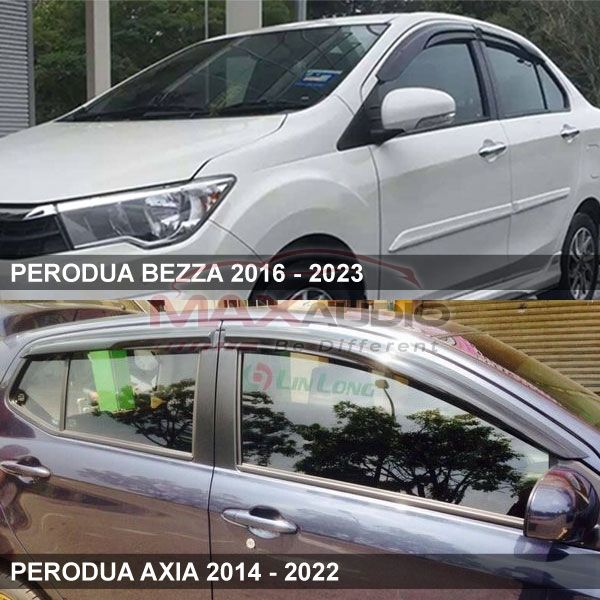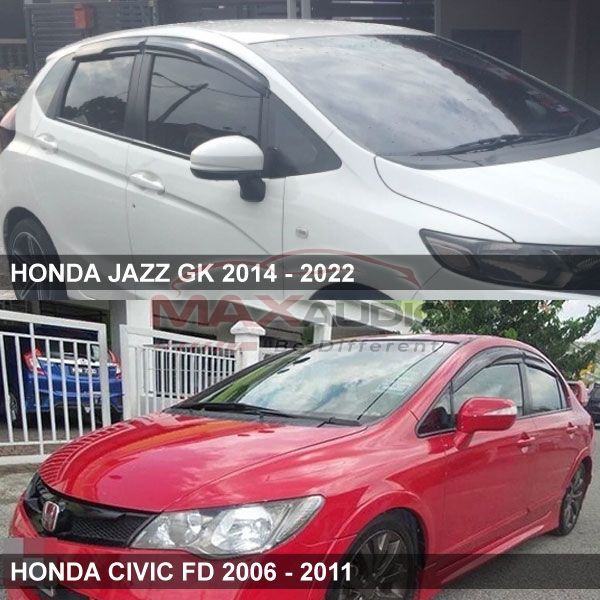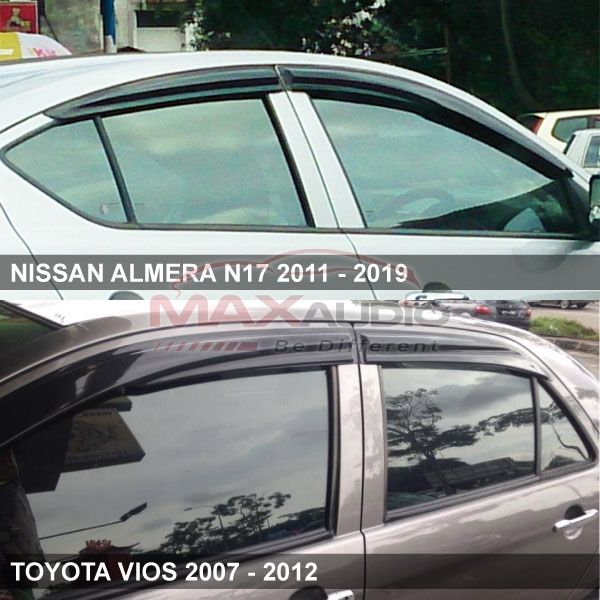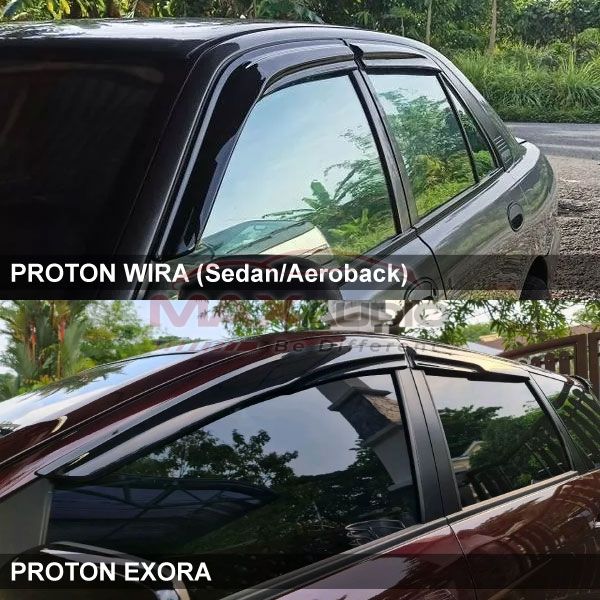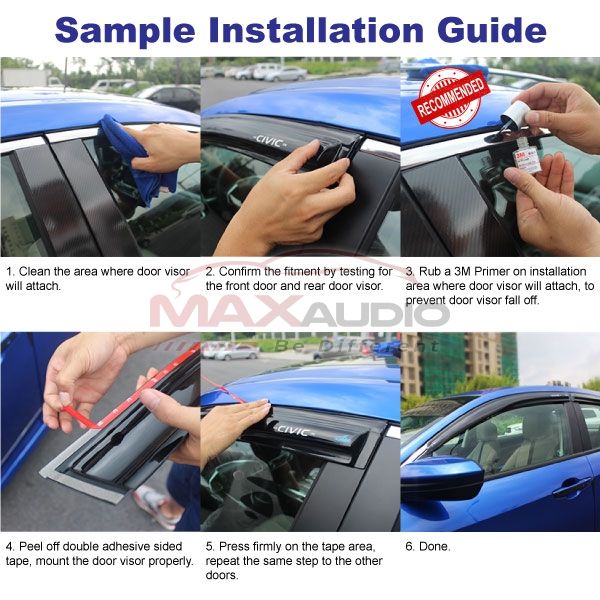 MOST CARS Premium Mugen Style Quality Smoke Black Rain Guard Acrylic Door Window Ventilate Visor
Window visors deflector are the most popular accessory for all vehicles. Anti UV Acrylic door visor are made from 100% cast acrylic with Mugen Style design.
The door visor are made in dark smoke color. Aerodynamic with round and rib design improves smooth air flow for better driving performance. These hard wearing acrylic door visors improve air flow while helping to protect the car interior from water and debris.
During raning day, this visors create cabin comfort by keeping rain out and helps to minimize window fogging, gets better and clearer vision while driving during raining day. Door visor also letting fresh air in and reduce heat buildup in parked vehicles when partially open.
It is easy to install "No-Holes-To-Drill". Installation with included adhesive tape. Just clean and apply.
Benefits of External Door Visors?
The Door Visors are useful during rains,as it doesn't let rain droplets to fall inside the car and it is said to prevent from UV rays,there was a list of advantages of door visors.
When driving under the sun
When in idle motion
When driving in the rains
Prevents rain water from coming in. Enable smooth air flow to prevent mist and fog on the windscreen and hence, gets better and clearer vision while driving.Comfortable drive when driving without air condition.
5 HIGHT LIGHT FEATURES
Rain Guard - During rainy day, window can partially open allow fresh air in

Custom Fit - Designed just for your vehicle

Elegant Appearance - Enhances the beauty of car

Aerodynamic Design - Better air flow

Easy installation - "No-Holes-To-Drill"
FEATURES
Rain guard window can partially open with fresh air in during rainy day

Allows fresh air without road debris and let the heat air out from your vehicle

Natural and air circulation without air-cond

Reduce car temperature in parked vehicle

Remove mist from wind shield during rain and winters

Aerodynamic design

No leg to obstruct the side view mirror

Snug and secure fit

Elegant appearance, enhances the beauty of car

Made with light-weight and durable material

Sturdy, attractive and long-lasting

Install on outer door frame around window

Double sided tape are provided for quickly and easy installation

Installation time just around 10 minutes

Easy to install, no drill

Good finishing

Custom fit for your vehicle car

Low air resistance
SPECIFICATION
Product: Window Ventilate Door Visor

Design: Mugen Style

Color: Smoke Black

Material: Durable Acrylic

Thickness: 1mm

Comes in a set (4pcs)

Weight: 1.5kg (volumetric)
INSTALLATION GUIDE
1. Clean the area where door visor will attach.

2. Confirm the fitment by testing for the front door and rear door visor.

3. Rub a 3M Primer on installation area where door visor will attach, to prevent door visor fall off.

4. Peel off double adhesive sided tape, mount the door visor properly.

5. Press firmly on the tape area, repeat the same step to the other doors.

6. Done.
(Picture maybe different from actual product due to car fitting and cutting)
AVAILABLE MODEL
FORD
HONDA
HONDA BRV 2015 - 2020

HONDA CITY GD8/GD9 2003 - 2007

HONDA CITY GM2/GM3 2008 - 2013

HONDA CITY GM6 2014 - 2019

HONDA CITY GN2 (Sedan) 2020 - 2023

HONDA CIVIC FD 2006 - 2011

HONDA CIVIC FB 2012 - 2015

HONDA CIVIC FC 2016 - 2021

HONDA CIVIC FE 2022 - 2024

HONDA HRV 2014 - 2020

HONDA JAZZ GD 2001 - 2007

HONDA JAZZ GE 2008 - 2013

HONDA JAZZ GK 2014 - 2023
HYUNDAI
KIA
KIA CERATO K3 YD 2012 - 2017

KIA FORTE 2008 - 2011

KIA OPTIMA K5 2010 - 2015
MITSUBISHI
NISSAN
NISSAN ALMERA N17 2011 - 2019

NISSAN LIVINA / GRAND LIVINA 2006 - 2018

NISSAN SENTRA N16 2005 - 2012
PERODUA
PERODUA ALZA 2009 - 2021

PERODUA ALZA 2022 - 2024

PERODUA ARUZ

PERODUA ATIVA

PERODUA AXIA 2014 - 2022

PERODUA AXIA 2023 - 2024

PERODUA BEZZA 2016 - 2023

PERODUA KANCIL

PERODUA KELISA

PERODUA KENARI

PERODUA MYVI SE1 / SE2 / LE 2005 - 2010

PERODUA MYVI LAGI BEST / ICON 2011 - 2017

PERODUA MYVI G3 2018 - 2023

PERODUA VIVA
PROTON
PROTON ERTIGA

PROTON EXORA

PROTON GEN2 / PERSONA 2007 - 2015

PROTON INSPIRA

PROTON IRIZ

PROTON PERSONA 2016 - 2023

PROTON PREVE / SUPRIMA S

PROTON SAGA BLM SE FL FLX SV 2008 - 2015

PROTON SAGA VVT MC2 2016 - 2023

PROTON WAJA

PROTON WIRA (Sedan / Aeroback)

PROTON X50

PROTON X70
SUZUKI
SUZUKI SWIFT 2004 - 2012

SUZUKI SWIFT 2013 - 2018
TOYOTA
TOYOTA VIOS NCP42 2002 - 2006

TOYOTA VIOS NPC90 2007 - 2012

TOYOTA VIOS NCP150 2013 - 2019

TOYOTA WISH 2003 - 2008

TOYOTA WISH 2009 - 2017