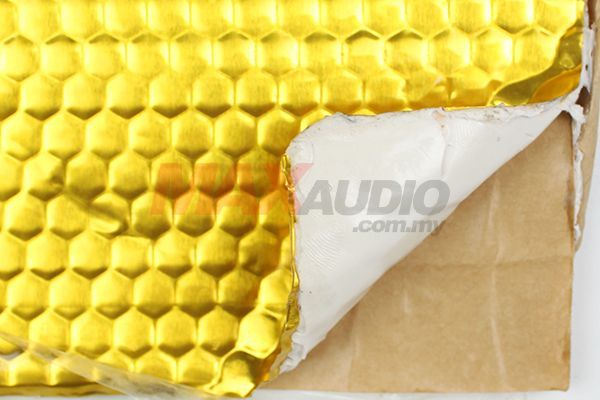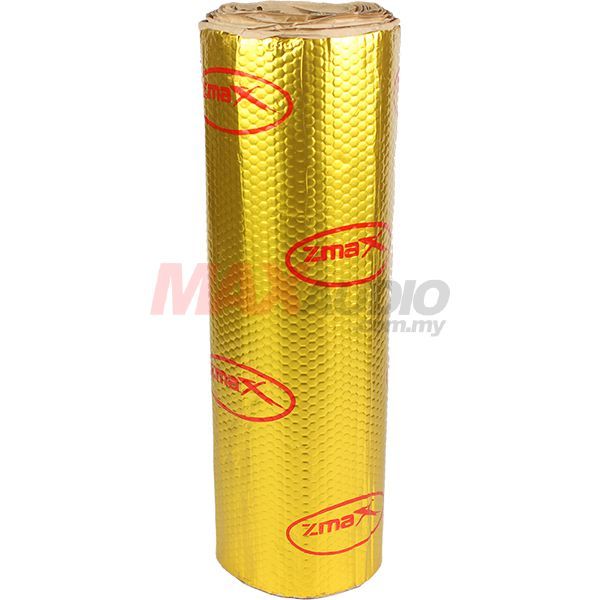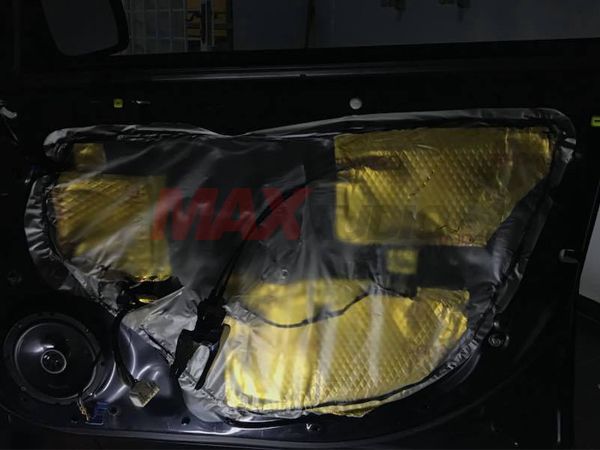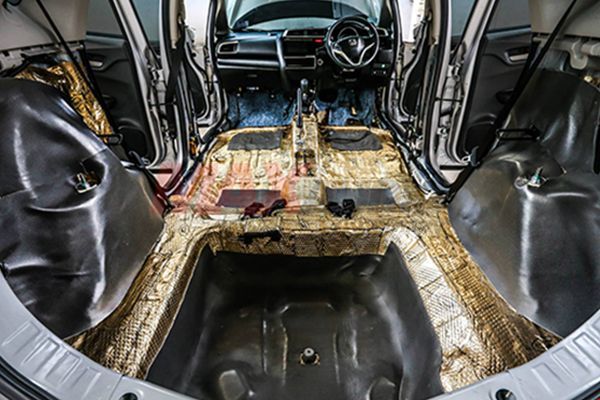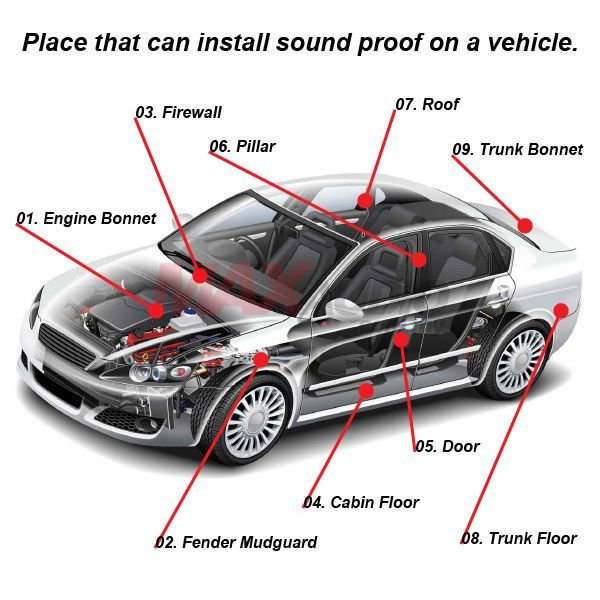 LIMITED EDITION ZMAX JAPAN Gold Edition 1 Roll 47cm x 5meter Aluminum with White Rubberized Bitumen Insulation Deadening Sound Proof. (Door, Floor, A B Pillar, Roof)
This is known as Engine Cooling & Sound Deadening Sound Proof, it can Cold down engine and outside noise. Any vehicle can use this ZMAX JAPAN Rubberized Bitumen Insulation Deadening Sound Proof. This is self adhesive with a damping sheet to reduce bonnet vibrations and an open cell Class "0" acoustic foam to absorb engine noise. The Aluminum face gives a wipe clean maintenance surface which also protects the bonnet lid against heat discolouring.
Reduction in cabin room noise in the vehicle (ie: road noise/engine noise, the car stereo music becomes more perceptible). Isoloation layer incorporated into it allowing it to reduce the airborne noise. 2mm rubberized bitumen used to dampen vibration noise and also absorb low bass frequencies that are found in car noise issues from the road and traffic as well as your car structure.
Strengthen Car Body
Front bonnet, door, trunk cover, roof, floor, mudguard cover any type of area are iron sheets are relatively weak.

With additional of sound proofing materials, the body is stronger and the passive safety factor is improved when a collision occurs.
"Quality Sound Proof Insulation Can Improve Quality Of Life !"
Waterproof and Head Isulation
Soundproofing works not only sound proof, it can effectively block high temperature generated by the engine.

It also can improve the air conditioning efftect, make you feel cold.
"Comfortable and Relaxed, giving you a pleasant journey !"
Soundproofed to make the car more quiet
Car noise engineering can resonate the body door, when driving and pavement, the frictional sound produced by air resistance.

Effective elimination and blocking, give you a quiet driving space, greatly improving the driving comfort.
"Make driving easier and make travel better !"
Highlight:
Special Honey Cone Design

Waterproof

Fire Retardant

Reduce Vibration

Reduce Noice

Heat Insulation

Sound Insulation

Environment Friendly

No Smell

High Temperature Resistance

Anti Oxidation
Specifications:
Design: Special Honey Cone

Size: 47cm x 5meter (1 Roll)

Thickness 2mm

Material: Gold Aluminum with White Rubberized Bitumen

Product Weight: 5Kg (Volume Matrix Size)

Made In Japan
Overview:
Universal Fitting for All Cars

Can be use on multiple place on vehicle

Made out of Gold Aluminum with White Rubberized Bitumen

Superior scratch resistance

High temperature, fire resistant and other properties

Environmental sticky adhensive rubberized bitumen

Super sticky and not to fall off easy after long time

Reduces noise and vibration effectively up to 80%

Reduce engine heat up to 70%

Provides better dampening effects

Easy application, no extra glue is needed

Engine damping and Sound damping

Maximum Sound Proofing Effect

Minimum Noise Destruction
LIMITED EDITION ZMAX JAPAN Gold Edition 1 Roll Aluminum with White Rubberized Bitumen Insulation Sound Proof (47cm x 5meter)